Authorities from Veracruz confirmed yesterday the death of the municipal mayor of Jamapa. Tuesday night armed men kidnapped the mayor, Florisel Ríos Delfín. This morning her body was discovered in the town of Ixcoalco located in the neighboring municipality of Medellín de Bravo. One publication reports that according to a city council official it was around this area that she was also taken from. Another claims that they took her from her own home, which could be in that area, we're unable to confirm.
Various publications report that some officials in the municipality were under investigation for crimes related to corruption and embezzlement. Last week on Nov 4 authorities arrested a former treasurer and the director of public works. An arrest warrant was also issued for the mayor's husband, Fernando Hernández Terán. Who allegedly hid in the municipal palace and has since been on the run. Some in the past had made allegations that the mayor's husband was trying to secure his spot as the mayor once his wife's term had ended.
The husband apparently wrote messages on Facebook following the incident.
We are in a Mexico that, if we work straight, we are in bad shape. And everything is blamed on organized crime. I LOVE YOU FLORISEL AND I SWEAR I WOULD HAVE DIED WITH YOU, BUT WE WOULD NOT HAVE LEFT ALONE. NOW IF ALL THOSE PEOPLE WHO HAVE BEEN AGAINST US ARE HAPPY, GOD BLESS ALL THOSE WHO DID THIS AGAINST YOU. WE ARE INNOCENT AND I SHOUT IT TO THE FOUR WINDS, WE HAVE WORKED AND KNEW HOW TO SAVE FOR AN OLD AGE THAT WE ALWAYS DREAMED OF. NOW THEY WILL SURELY LOOK FOR ME. DON'T WORRY THAT I WILL ARRIVE MYSELF.

They have destroyed part of my life and my children, they never thought about it. I LOVE YOU FLORISEL AND DON'T LOOK FOR ME I WILL ARRIVE ALONE I ONLY KNOW HOW TO TELL THEM THAT WE ARE INNOCENT AND THEY TOOK A GREAT WOMAN AND EXEMPLARY MOTHER OF A FAMILY.  [DeepL]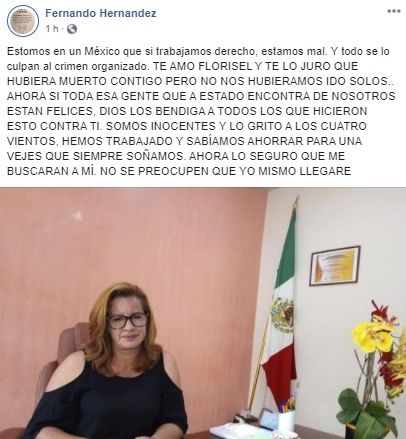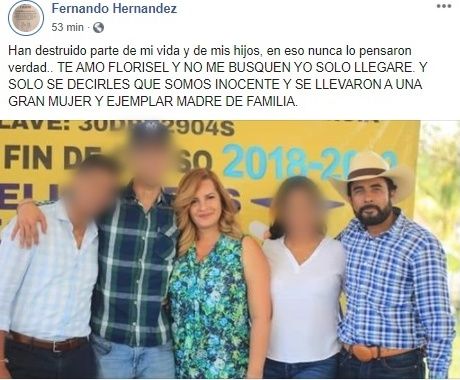 The cowardice of the husband appears to be what lead to this poor woman's death.
---
Sources:
[1] https://www.elimparcial.com/mexico/Reportan-asesinato-de-acaldesa-Florisel-Rios-Delfin-en-Jamapa-Veracruz-20201111-0050.html
[2] https://veracruz.lasillarota.com/estados/asesinan-a-alcaldesa-de-jamapa-florisel-rios-delfin/453929
[3] https://www.milenio.com/estados/florisel-rios-delfin-alcaldesa-jamapa-veracruz-asesinada
[4] https://www.proceso.com.mx/nacional/estados/2020/11/11/plagian-asesinan-la-alcaldesa-de-jamapa-en-veracruz-252538.html