Following the arrest of José Antonio Yépez Ortiz aka El Marro at the beginning of last month, some communities have found themselves in the middle of the current back and forth between Jalisco New Generation Cartel (CJNG) and Santa Rosa de Lima Cartel (CSRL) remnants lead by Adán Ochoa aka El Azul. Unfortunately this isn't something new to these areas, as the alleged conflict between the two groups isn't something that began with the apprehension of El Marro. Though at the moment the push for dominance from both groups appears more blatant and desperate. Which is kind of the expected environment one can assume arises following the arrest of a kingpin. One community currently in the middle of all this is San Juan del Llanito, located in the municipality of Apaseo el Alto, Guanajuato.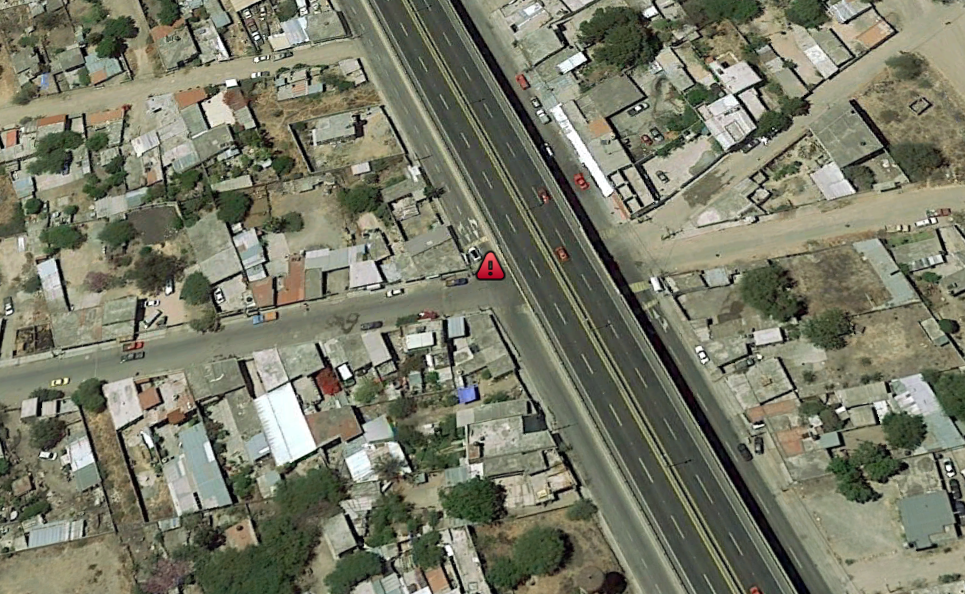 We don't have very much information about what specifically took place last night but various press publications give us some idea. It is reported that after threats received from people allegedly associated with CJNG, many townsfolk packed up their bags and fled. Residents said that earlier in the night between 6:00-7:00 PM, armed men arrived to the town setting up blankets and warning people to leave before sun down. Adding that it didn't matter whether they had associations with organized crime or not, everyone was a target. This understandably caused worry and by 8:00 PM it is said the place was a ghost town. Writing for Informe Queretano, Abraham Hernández says,
This generated panic among the population, which caused almost an immediate exodus where dozens, perhaps hundreds of vehicles full of people could be seen leaving this community with some of their belongings and in search of 'a safe place to spend the night.'
Adding that it wasn't until 9:00 PM that State Public Security Forces (FSPE) and National Guard personnel showed up. At which time they were the sole occupants of the roads, setting up checkpoints and patrolling. Including blocking one main access to the town via Fed. 45 in case a convoy of criminals was to attempt an excursion. Upon closer inspection we were able to find the exact location that law enforcement was positioned. The birds-eye view seen above and a close-up seen below.
The larger image in this picture-in-picture was gathered from Google Maps and taken in 2016. The smaller picture is one taken from social media showing law enforcement to the right with their vehicles last night blocking the roadway. That roadway they are in is the exit ramp for Fed. 45 leading into the community. A video uploaded to Twitter gives us a fuller picture:
Thankfully last night there were no reported attacks in the area and things remained calm.
How To Interpret
Unfortunately we don't have much footage of the events last night. In ideal circumstances we would have videos of people fleeing in their vehicles and pictures of the narco-blankets (narcomantas) hanging up around town. We have footage of neither. That is not to say that those things didn't happen, instead it is to show what we are and are not able to confirm with open source intelligence. Nevertheless, knowing what is currently happening in that area, it sounds plausible.
San Juan del Llanito is one of the areas that in recent weeks has had it's share of organized crime related incidents. Just the other night on August 30, two men were shot to death. Before that on August 20, a dismembered corpse was found under the bridge right there where law enforcement was positioned. We can confirm the incident on the 20th to be related to CSRL based on the narco-cardboard(narcocartulina) left beside the victim. Here is a second source for the incident.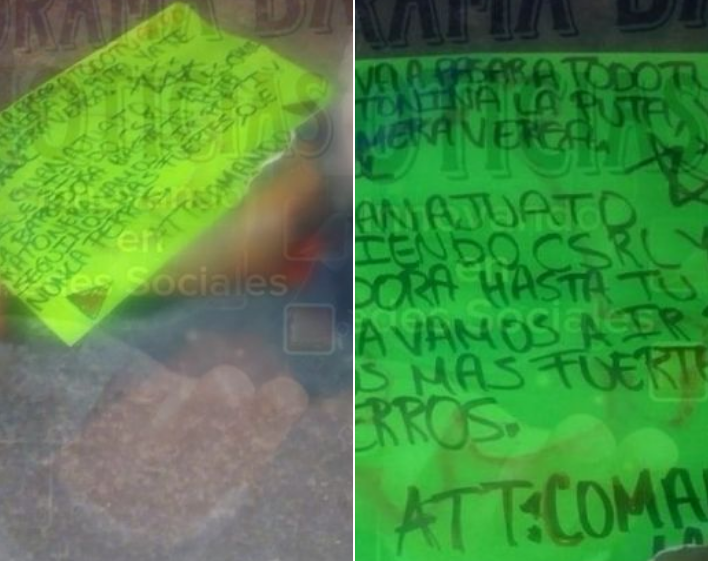 Currently in circulation we have noticed a couple different cardboard and handwriting styles being left around Guanajuato that are signed by El Azul. This one above with sloppy handwriting, X's as eyes and two red triangles on either lower side, seem to be the most authentic. I use that word lightly but put another way, they resemble the look of ones left by Marro in times past. We will be comparing styles in an upcoming article.
As mentioned by Mr. Hernández in his article about the incident, even if nothing happened, the quick reaction from those living there gives an example of the fear people currently harbor. Assistance from law enforcement can be slow, even hours at times, giving folks no option but to flee. Understandably not willing to take a chance these days in a world with few given.
#EstamosVigilando
---
Sources:
[1] https://agoragto.com/noticias/municipios/huyen-vecinos-por-miedo-en-san-juan-del-llanito/
[2] https://queretaro.quadratin.com.mx/huyen-habitantes-de-san-juan-del-llanito-por-miedo-a-morir-o-ser-levantados/
[3] http://informequeretano.com/2020/09/03/pobladores-abandonan-san-juan-del-llanito-al-ser-amenazados-por-el-crimen-organizado/