In late July, some posts from a Facebook page administered by a community defense group in Tepalcatepec, Michoacán claimed that they had found weaponized drones carrying improvised explosive devices (IED) allegedly from the so-called Cártel Jalisco Nueva Generación (CJNG). The story spread like wildfire through the media, picking up unverified and even false claims along the way and culminated in the Mexican government purchasing drone countermeasures from an undisclosed defense company for over $215.7 million pesos in September.
The story supposedly began in an incident on July 25 in which at least one drone was recovered with plastic containers filled with something described as apparently plastic explosives. A photo of a drone appeared in a social media post the following day (July 26) on the Los Camellones Tepeque Facebook page, an account managed by sympathizers of the so-called Carteles Unidos. The post urgently requested assistance from a bomb squad to disarm the devices and requested the assistance of people to help them "#SHARE IT PLEAZE".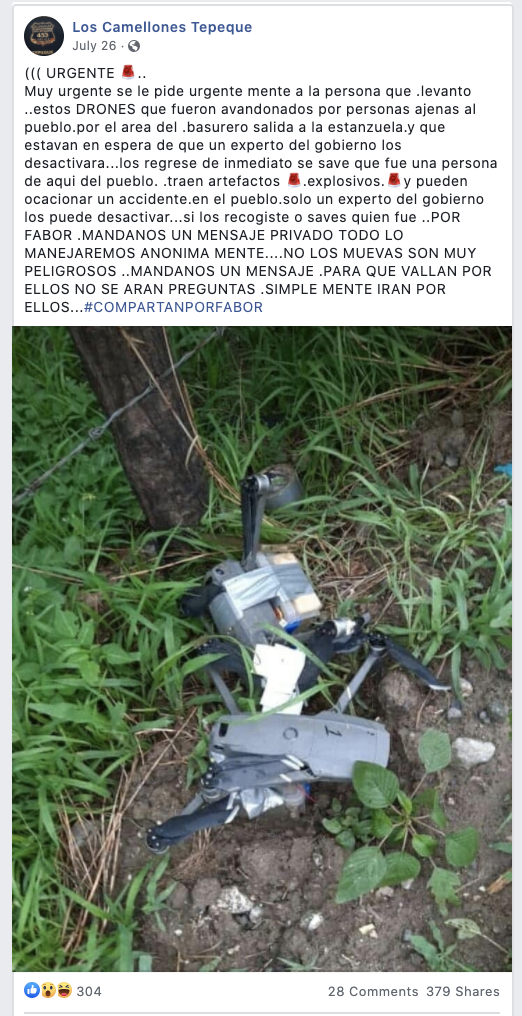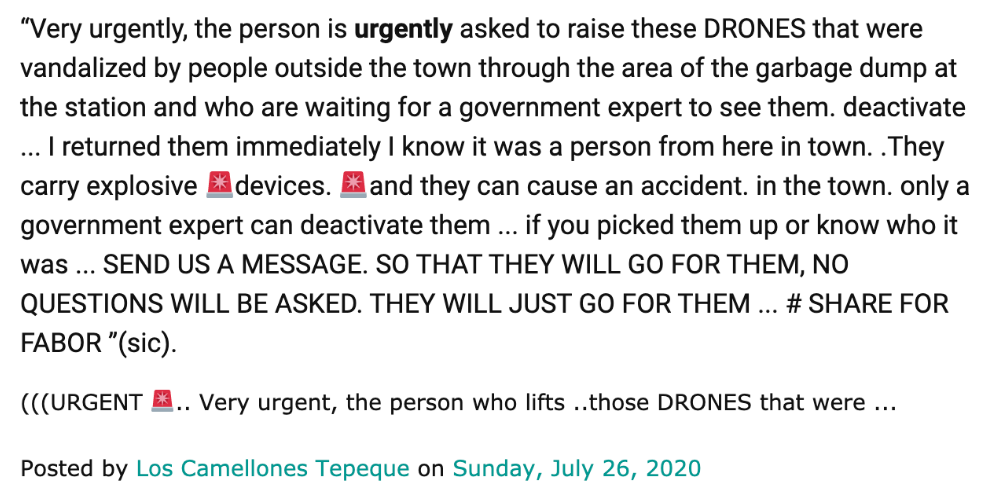 Carteles Unidos are an alliance of criminal groups in Michoacán which include Los Viagras, Caballeros Templarios and other rivals of CJNG and their allies, who have a history of using disinformation to bring heat from the authorities on their rivals. In May just a few months before the drone story, a video appeared on social media along with reports from anonymous personas proclaiming a "new cartel" had materialized in the area: the "Cártel Zicurian Nueva Generación" (CZNG) Despite multiple stories in Mexico and the US, including on Mexico News Daily, and being listed as an "ally" of CJNG on Wikipedia, CZNG does not actually exist according to experts and reporting.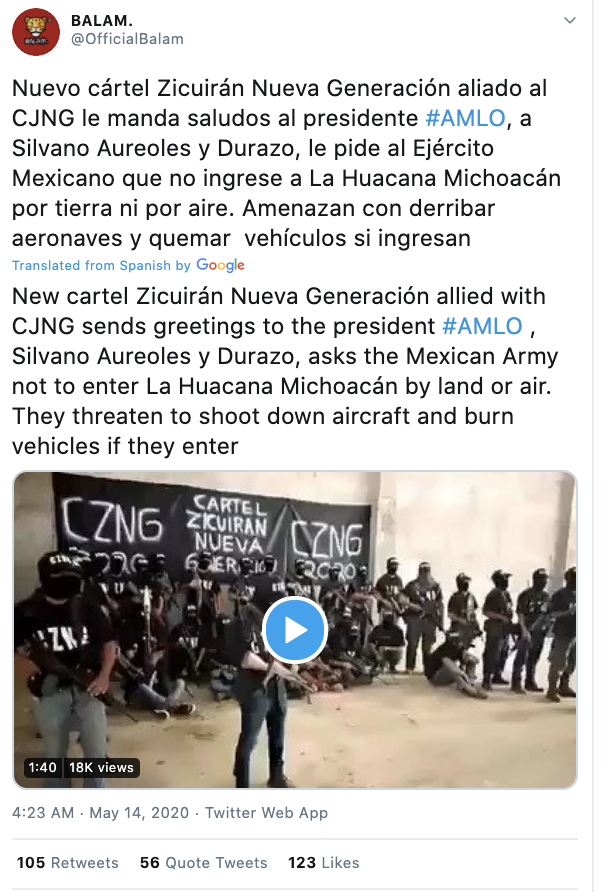 The aerial IED story spread on Facebook and quickly picked up political analysis: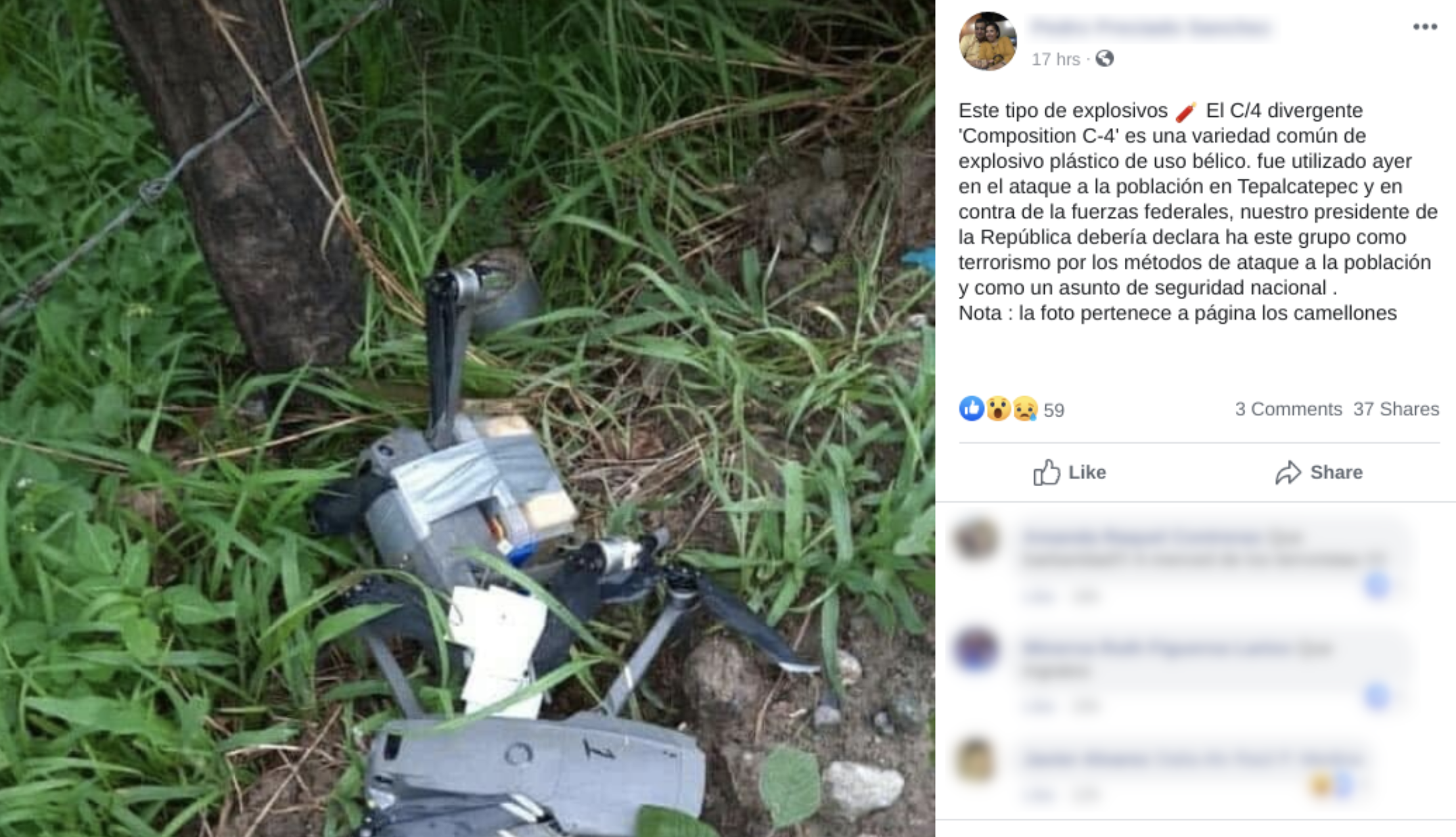 This type of explosives, the variant C / 4 'Composition C-4' is a common variety of plastic explosive for military use. It was used yesterday in the attack on the population in Tepalcatepec and against the federal forces, our President of the Republic should declare this group as terrorism for the methods of attacking the population and as a matter of national security. Note: the photo belongs to the camellones page
The story was subsequently reported the by three regional publications, Red113 on July 26 and MiMorelia and Ignacio Martínez/IM Noticias, on July 27. The story in IM Noticias included an interview with a man from the area (supposedly). In the interview, the man pointed out the apparent "national security" implications of the aerial IED and assured that the story was real and not a "montage", a reference to statements made a week or so before by Secretary of Public Security Alfonso Durazo after the release of the "CJNG Grupo Élite" video of a convoy of 22 armored vehicles and 74 armed men.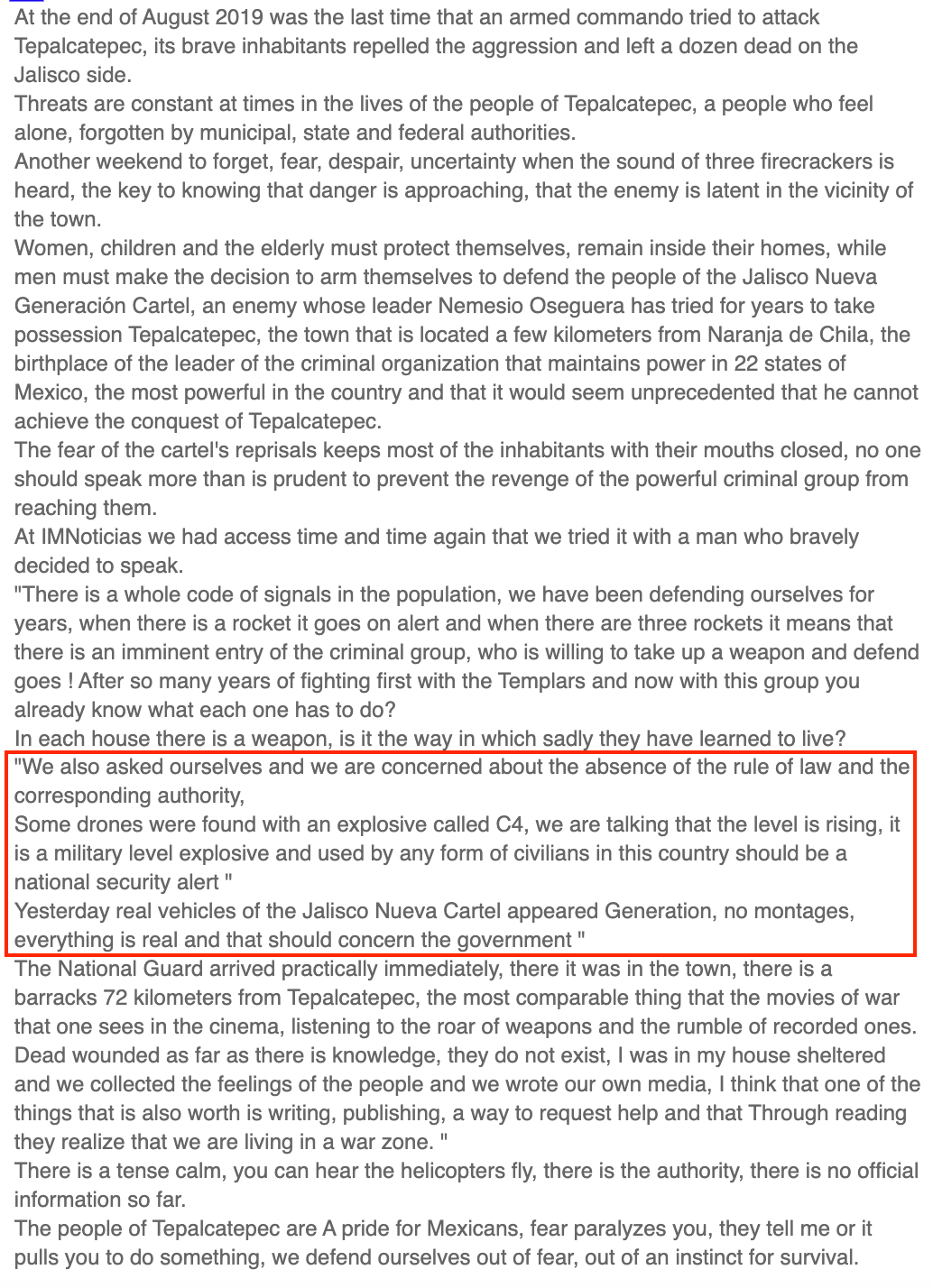 Reports vary about the supposed attack with some versions claiming a dozen men of the "CJNG" were killed while others reported no casualties. A single vehicle was recovered which interestingly was seen in the "CJNG Grupo Élite" video from the July 17.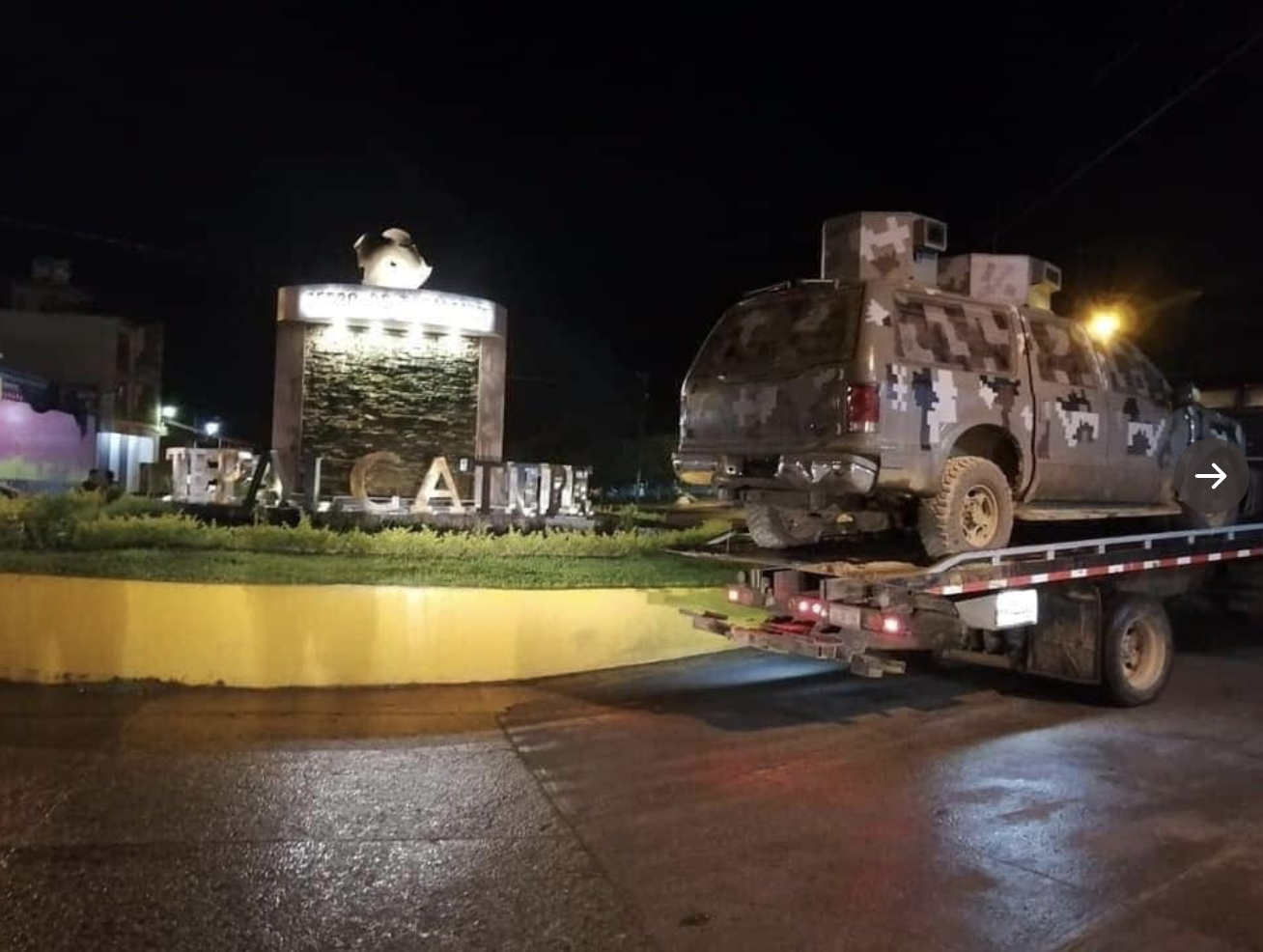 The model of drone recovered was apparently some model of the DJI Mavic quadcopter, although reports vary about which specific one. According to a tactical note from Small Wars Journal, the model seen in pictures and videos was a DJI Mavic 2 Zoom.
It's worth mentioning that according to a story from Info Defensa in February (when the pandemic began), the Mexican Defense Ministry (Sedena) opened a bid to acquire spare parts for a DJI Mavic Platinum drone, the winner of which would be announced on March 13. The first instance that I can find in which "CJNG" has used drones in their propaganda videos was on April 29 in Tuxpan and Tecalitlán, Jalisco. In the video, there are drone shots of the "CJNG" distributing pandemic aid.
The parts in the contract included 25 propellers, arms, flexor cable, video cable, control card, power card, landing gear and sensors and other parts which were not listed in the story. Looking at the photographs and video stills from footage of the drones which were recovered, the landing gear appears to be repaired or altered, possibly with some type of glue or epoxy. Whether or not that's significant isn't clear.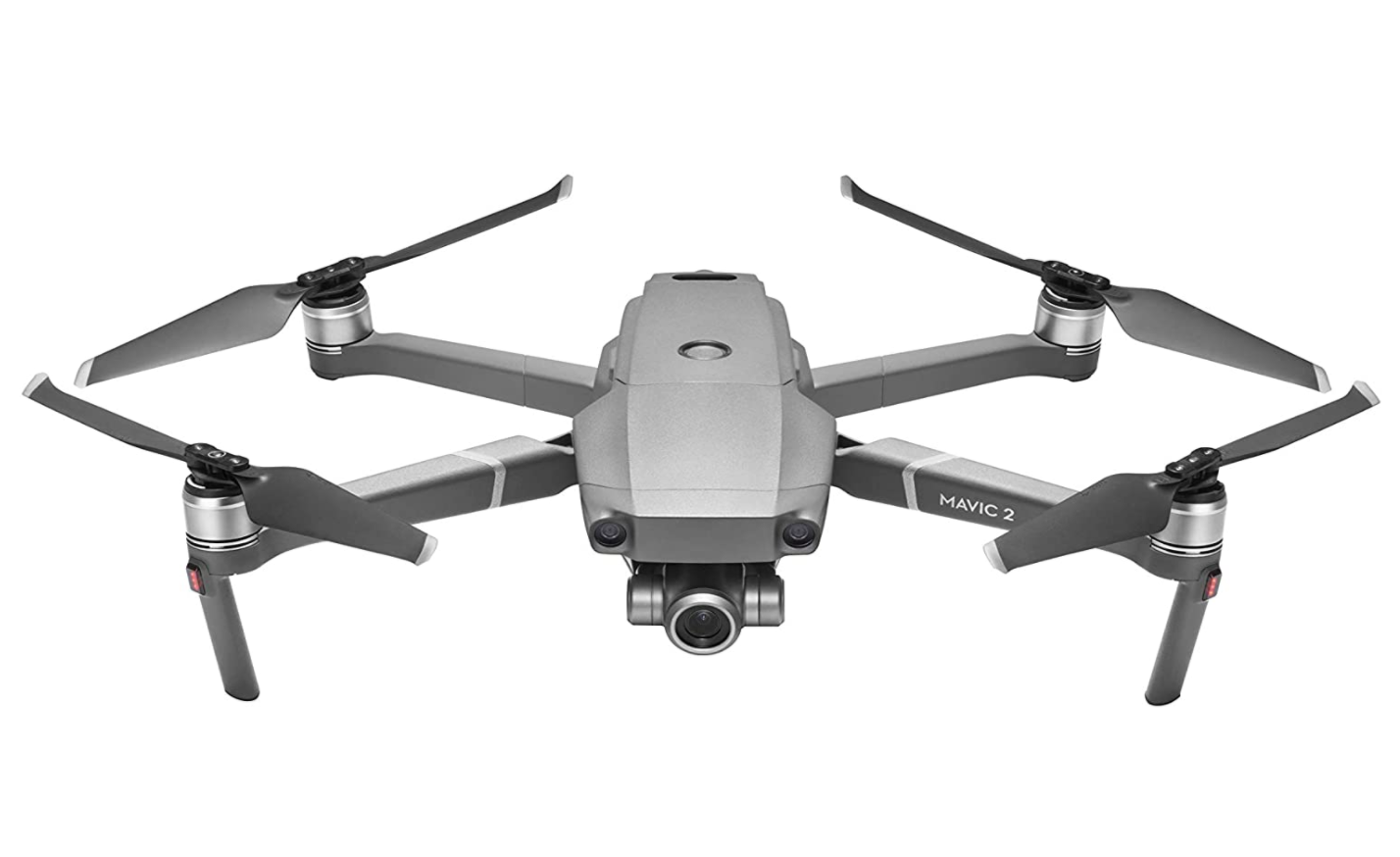 The story spread to Twitter where it was first reported in English on July 27 by narco.news creator Chris, alias @just_some_d00d. Chris even added a caveat that the "community defense" group's Facebook page, which Chris has been monitoring for about a year now, is managed by people that fight on behalf of El Abuelo and Carteles Unidos. Not that any of that context mattered to the user that subsequently reposted the picture from Chris's Twitter post in r/NarcoFootage on Reddit.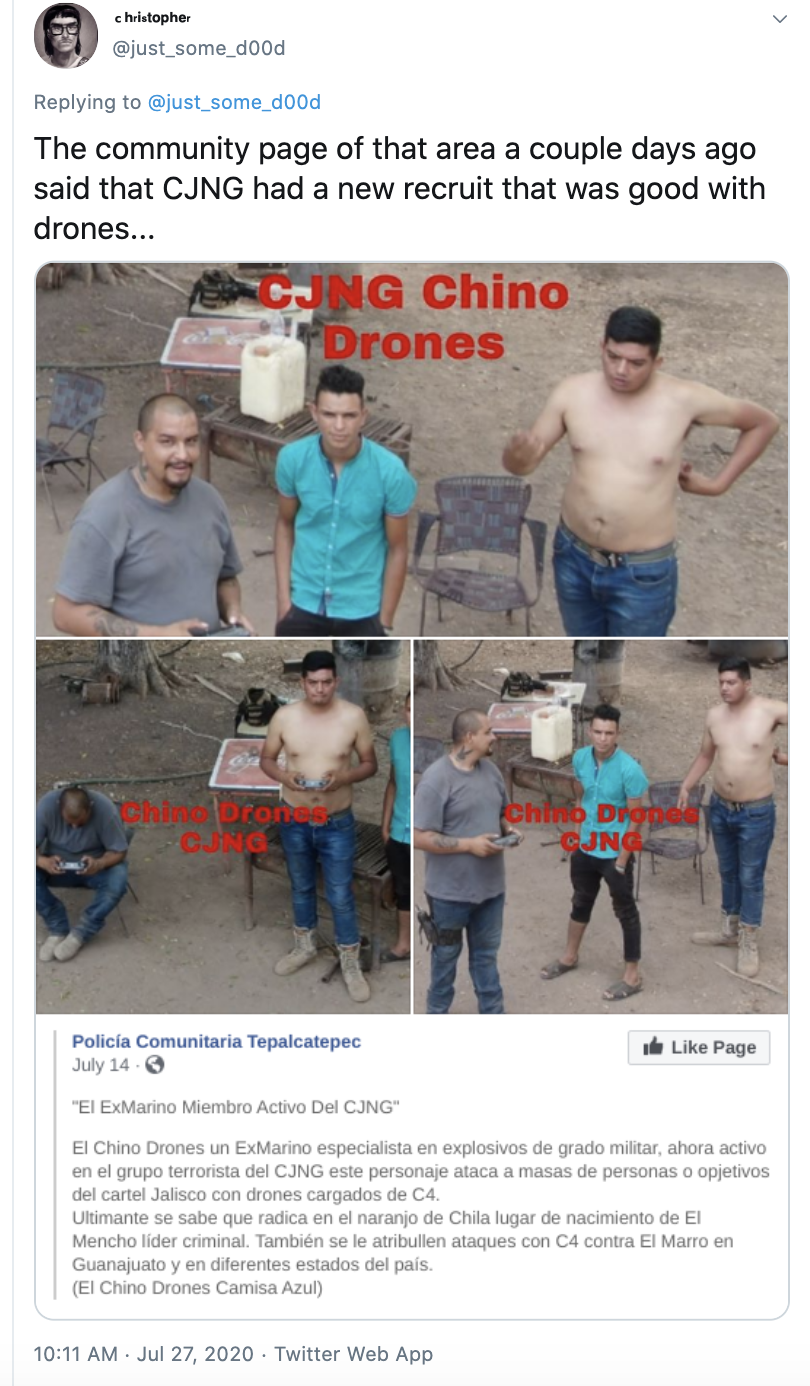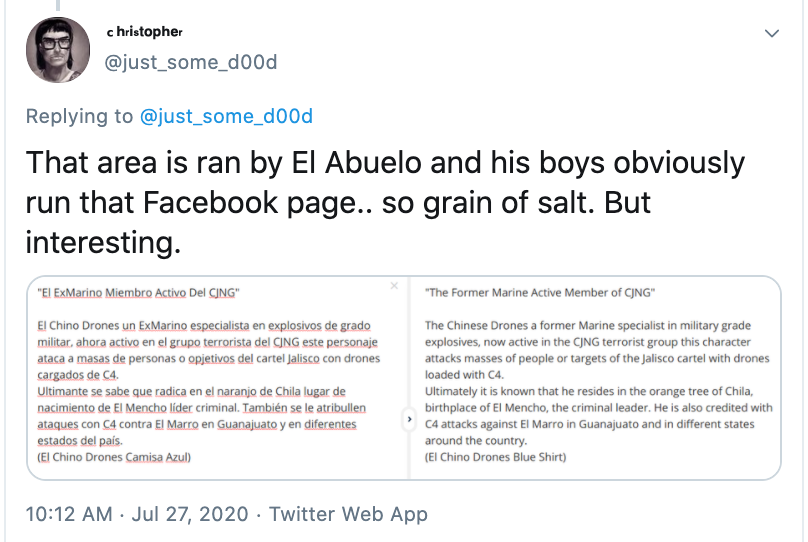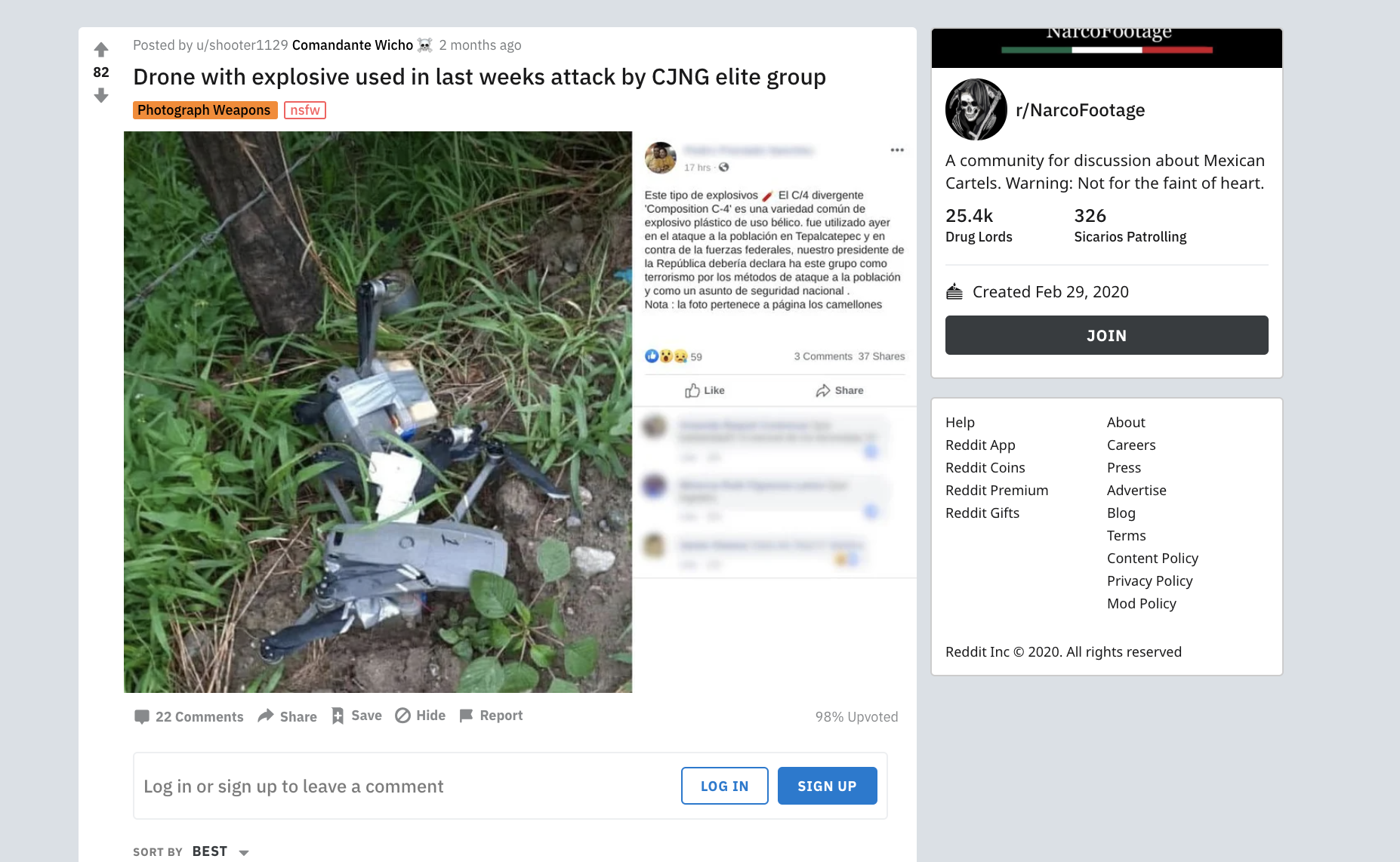 According to reporting from El Universal based on information from Mexican officials, El Abuelo was originally a lieutenant with the Valencia/Milenio cartel in Michoácan, the supposed predecessor of CJNG. Abuelo later led the autodefensas in the Buenavista municipality in Michoacán fighting La Familia Michoacana and its purported descendants, Los Caballeros Templarios. But, as with a majority of things related to crime in Mexico, it should be pointed out that almost all of the details about El Abuelo and these criminal groups in the Tierra Caliente is based on unconfirmed and often unverifiable information directly from officials who are extremely unreliable and occasionally corrupt. It's not unreasonable to assume that the "community defense" group in Tepalcatepec is involved in criminal activity in the area, but the specifics of rivalries, alliances, history, leadership and pedigrees are extremely murky.
Not that any of this mattered to all but one publication in Mexico, who soon caught wind of the sensational drone bomb story. The first national publication to report the story was La Silla Rota on August 12. The story included photographs of armed men in camouflage pants and tactical vests, apparently unconcerned for their own safety while proudly displaying the Semtex-laden drone they had supposedly recovered. In addition to details about the devices, the story included a lot of sensational but irrelevant information about CJNG, their purported leader El Mencho and the weapons that CJNG supposedly uses, like assault rifles, Barrett .50 caliber rifles and grenade launchers, although none of those things were recovered in this incident.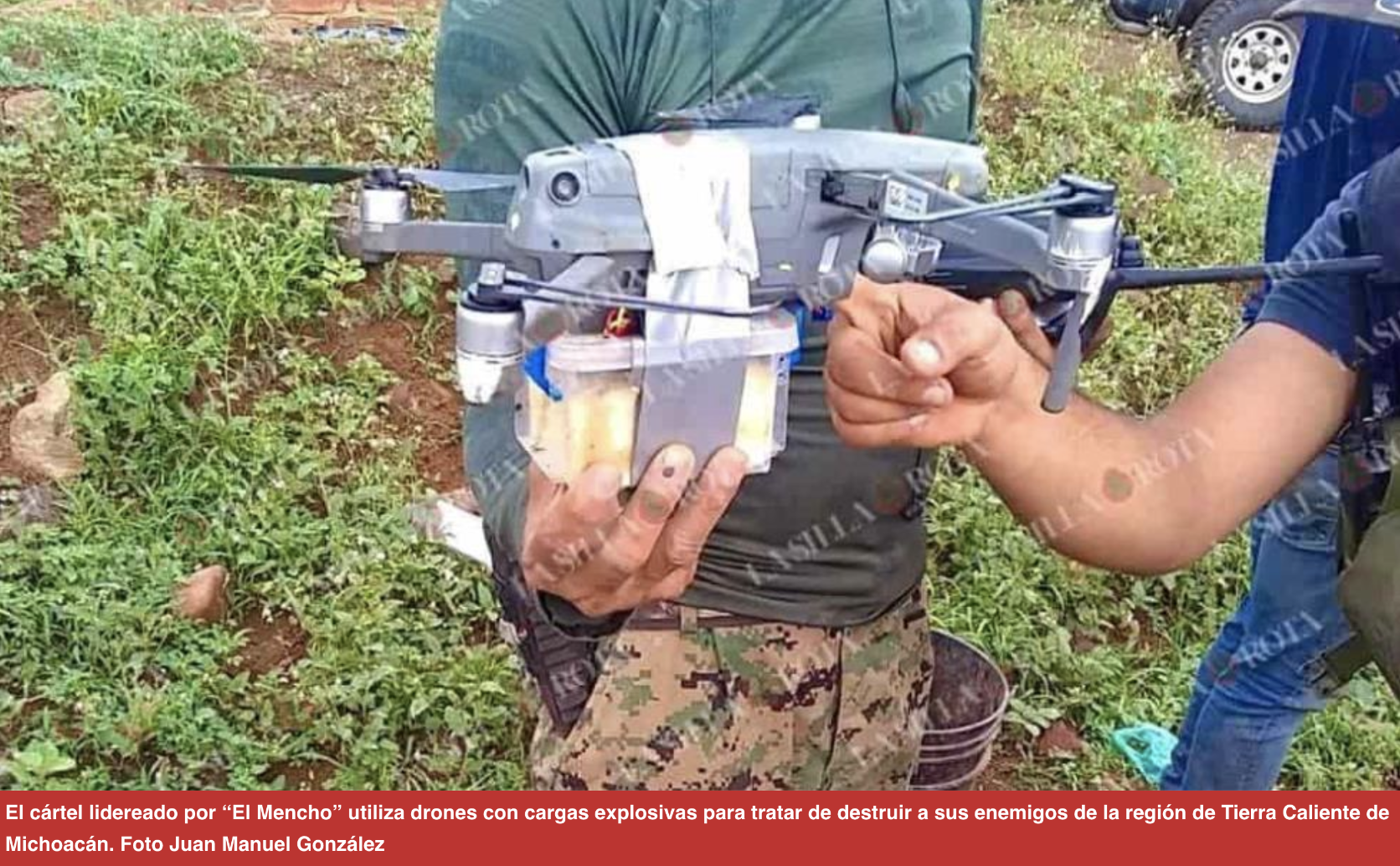 About the only reporting besides details about the devices in the entire La Silla Rota story is from these paragraphs:
One of the community guards explained to La Silla Rota that so far, no detonation has hit the inhabitants or the barricades of the autodefensas groups.
He described the explosion which could be seen and heard from kilometers away and momentarily deafened people. He considered that, being a new weapon of annihilation, the CJNG still does not yet know how to use the drones precisely.
The explosives, he indicates, were attached to the drones with metal tape for industrial use which were found inside a vehicle with artisanal armor.
That truck, he said, was abandoned by a group of CJNG hitmen in the recent attacks on the residents of that area of the Tierra Caliente.
When reviewing the the unit, camouflaged and labeled with the acronym of the criminal organization, the autodefensas found three drones and about 6 explosive devices.
None of this information is verifiable, nor did La Silla Rota make any attempt to verify it. Nor did they even bother to report anything about the men who claimed they found a CJNG drone bomb, who apparently were allowed to keep the explosives by the Guardia Nacional who initially responded to the incident. They were "community guards" as far as La Silla Rota was concerned.
The next stories were in Infobae and Noventa Grados on August 14. The story from Infobae was just a rehash of the La Silla Rota story with some additional information about another drone IED which was "discovered" by the police inside a vehicle in 2017.
The story from Noventa Grados, God bless them, actually included critical analysis and context 🎉🎊💃🕺 which mentioned, among other things, that no attacks from drone bombs have ever been reported in Tepalcatepec or in any other part of the country for that matter. To reiterate, no one has been killed or injured by a drone IED in Mexico. Never. Not once.
Denise Maerker did a segment on her television show on August 17 where they sent a video crew out to the location and did interviews and shot footage of the drone. On August 18, El Universal did a story citing the Denise Maerker segment.
---
The first report in English was also on August 18 in Mexico News Daily, which uncritically described a "citizens' militia group" recovering the aerial IED. The story cited La Silla Rota, Infobae and El Universal and another story from April about a drone IED "found" in Puebla which was attributed to CJNG by officials who claimed they had intended to attack their rivals in Guanajuato with the device. 🤨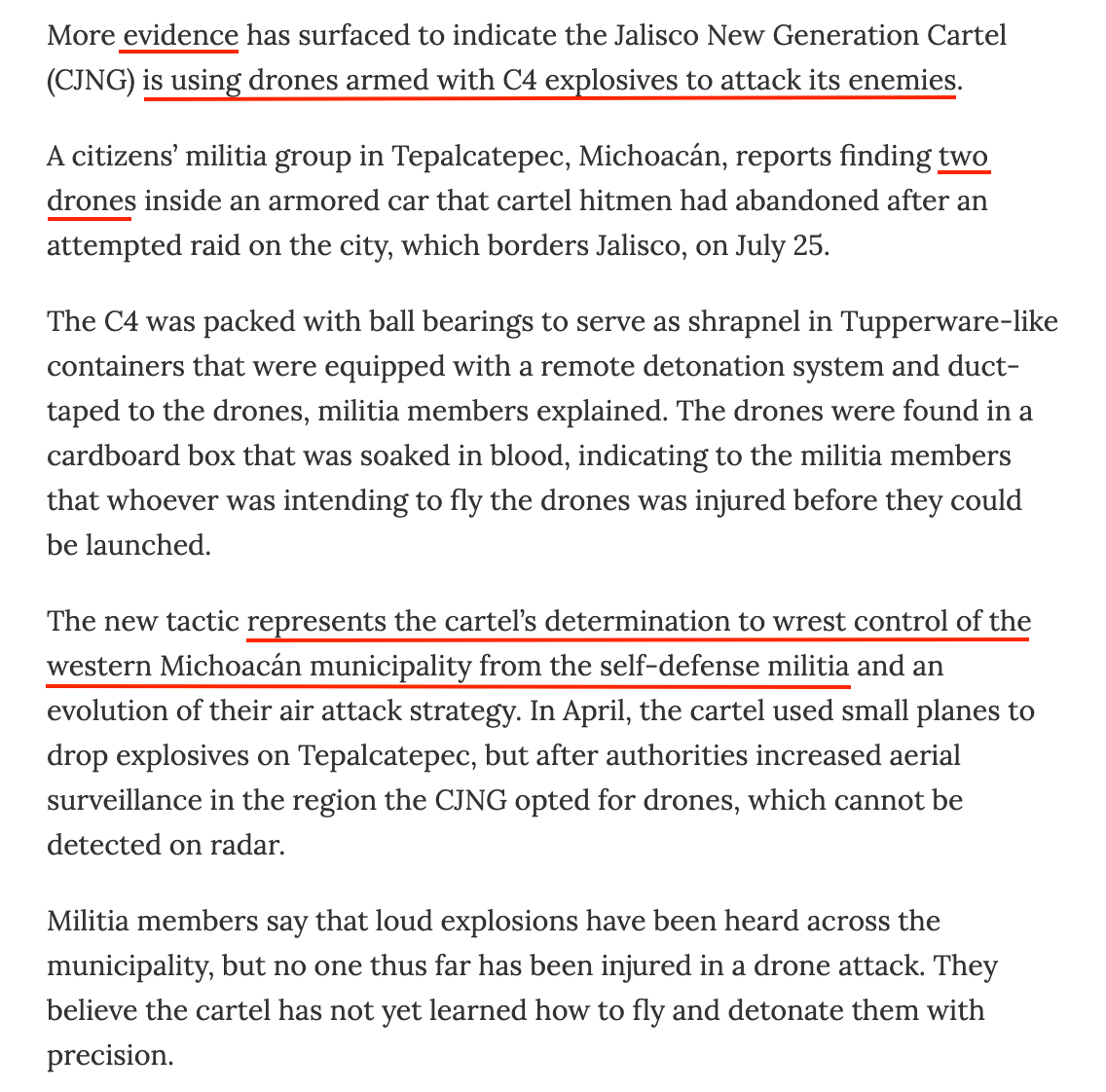 This was the beginning of the shit hitting the proverbial fan. The story took on a life of its own with embellishments which seem to have been intuited out of thin air. There are more stories in English than are worth mentioning but we'll go over some of the highlights:
August 24 - Forbes: "Mexican Drug Cartel Carries Out 'Drone Strikes' In Gang War" (cited El Universal story)
A citizens' militia group (*note, this citation is from a 2013 article on autodefensas) in Tepalcatepec, Michoacán, formed to protect farmers from the cartel, found two drones in a car used by gunmen belonging to the Jalisco New Generation Cartel (CJNG), a group estimated to control a third of the drugs consumed in the U.S. (*note, this claim is from Washington Post story citing unnamed U.S. officials) The drones had plastic containers taped to them filled with C4 explosive and ball bearing shrapnel. The militias say that they have heard explosions, and believe that the drones are the latest weapons [in] an ongoing gang war.
---
August 28 - The Drive: "Drug Cartel Now Assassinates Its Enemies With Bomb-Toting Drones" (cited Mexico News Daily story)
A civilian self-defense militia in the city of Tepalcatepec, in Mexico's southwestern Michoacan state, reportedly recovered two dozen [!?!] explosive-laden quadcopters from a car that a team of sicarios – cartel hitmen – had apparently abandoned, possibly after a failed or aborted hit, on July 25, 2020. The bombs attached to the drones consisted of Tupperware-like containers filled with C4 charges and ball bearings to act as shrapnel.
---
August 30 -  New York Post "Mexican cartel using weaponized drones in drug wars to take out rivals" (cited Forbes story)
A Mexican drug cartel have begun using weaponized drones in an effort to take out their rivals — one of the latest tactics in the drug wars that have plagued the Central American nation (*note, Mexico is not in Central America), according to reports.
The airborne attacks have become a common weapon for the Jalisco New Generation Cartel — Cartel Jalisco Nueva Generacion, or CJNG in Spanish — which authorities believe controls one-third of the drugs that enter the US, to gain a larger foothold in the export of illegal drugs, according to a report by Forbes.
---
September 24 - Fox News: "From bomb-affixed drones to narco tanks and ventilated tunnels: How well-equipped are the Mexican cartels?" (cited The Drive story)
All the while, these cartels have yet to be designated formal terrorist organizations despite boasting well-documented arsenals of sophisticated weaponry to rival most fear-inducing militias on battlefields abroad.
'The Mexican cartels operate like a sophisticated terror group and use advanced weapons to kill and intimidate. They use military-grade weapons and are a serious national security threat to the U.S.,' Derek Maltz, a former Drug Enforcement Agency (DEA) head of the Special Operations Division, told Fox News. 'As the Mexican cartels expand their operations around the world and grow their revenue, they utilize the latest and greatest technology and buy the top of the line weapons.'
Two dozen [😑] of the explosive-charged quadcopters were reportedly recovered from a cartel car in Michoacan state in late July, the container-like bombs stuffed with C4 charges and ball bearings to function as shrapnel and adhered to the drones.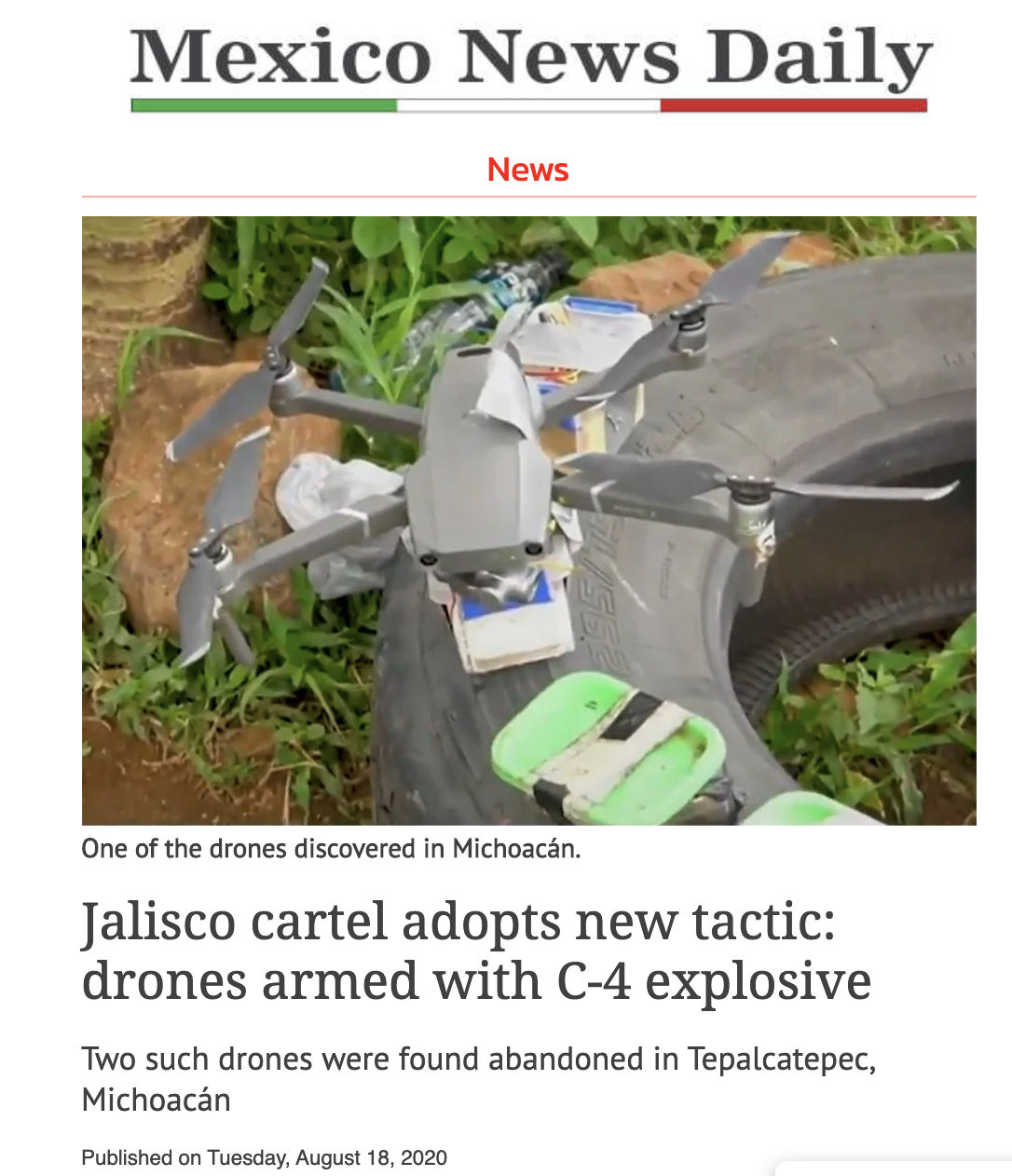 The most egregious and telling of the English-language coverage actually comes from something published several months before this story. In a separate cascading shitshow of embellished and erroneous information, an article from the Brookings Institution, an influential think tank in Washington, about the effects of the pandemic on criminal trafficking organizations briefly mentioned drone bombs in one sentence towards the end of the article:
[Drug trafficking organizations] have also weaponized drones, using them to assassinate rivals and security forces personnel.
The link from that line in the Brookings Institution column is to the website for DroneShield, a defense company selling drone countermeasure equipment. Partners of the DroneShield company include a number of military and government agencies.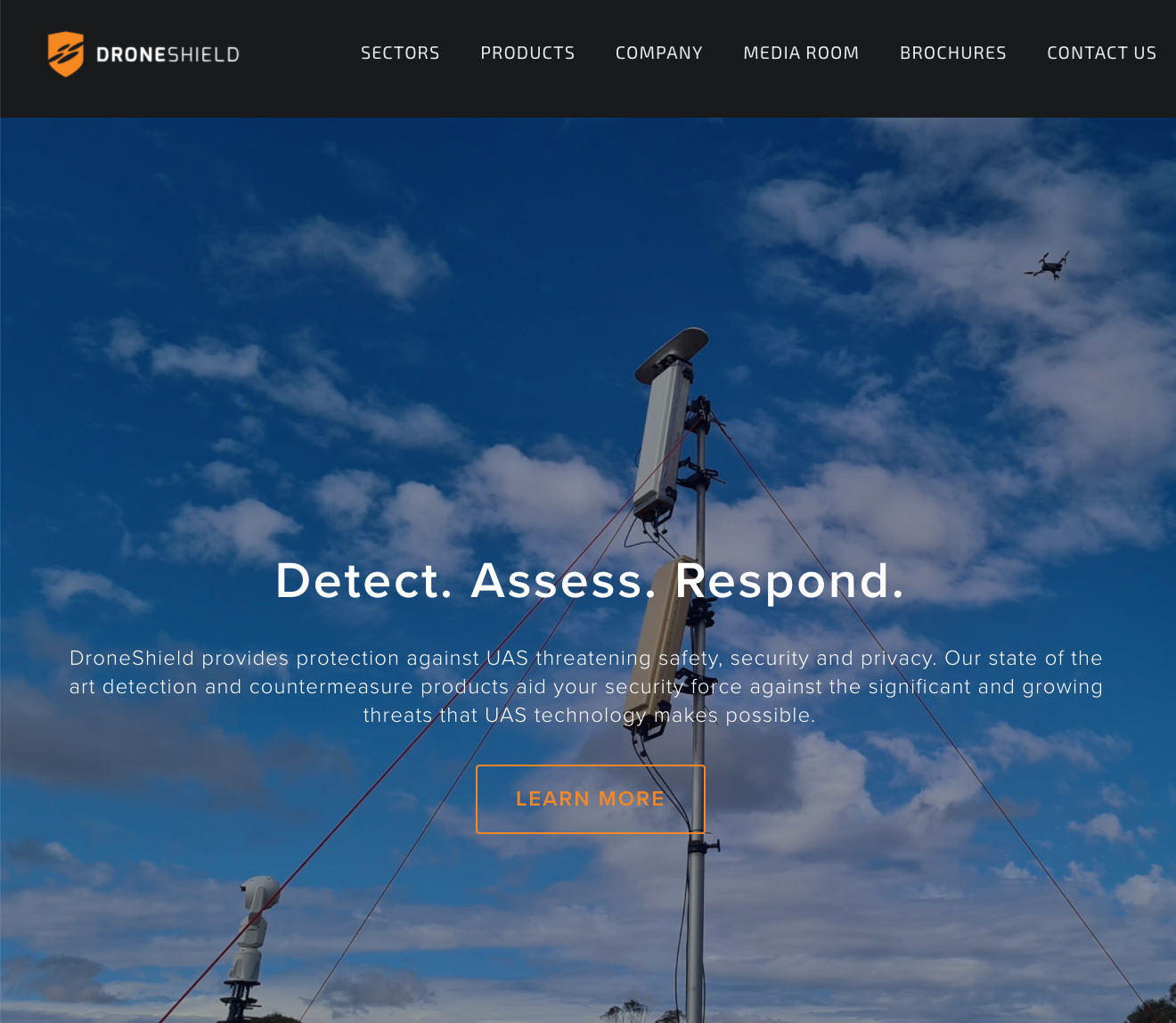 The link in the Brookings Institution column led to an austere page with only a headline which linked to another story in the International Business Times from October 2017. In that story, an incident from that same month is described in which the police claimed to have pulled over a truck with four men in Guanajuato and discovered the men in possession of a Kalashnikov rifle and a drone equipped with a large explosive device and a remote detonator. The story in the International Business Times did not mention any attacks or "assassinations of rivals and security forces personnel" involving a drone IED as the Brookings Institution article claimed, which, again, has never happened in Mexico.

On September 21, a story in El Universal reported that the Defense Ministry (Sedena) would acquire a Supervision and Control System for Unmanned Aerial Vehicles, or a drone countermeasure system, for $215.7 million MDP (approximately $10.3 million USD). According to El Universal, the Mexican government will not publicly disclose any additional details about the systems until November 25, 2024.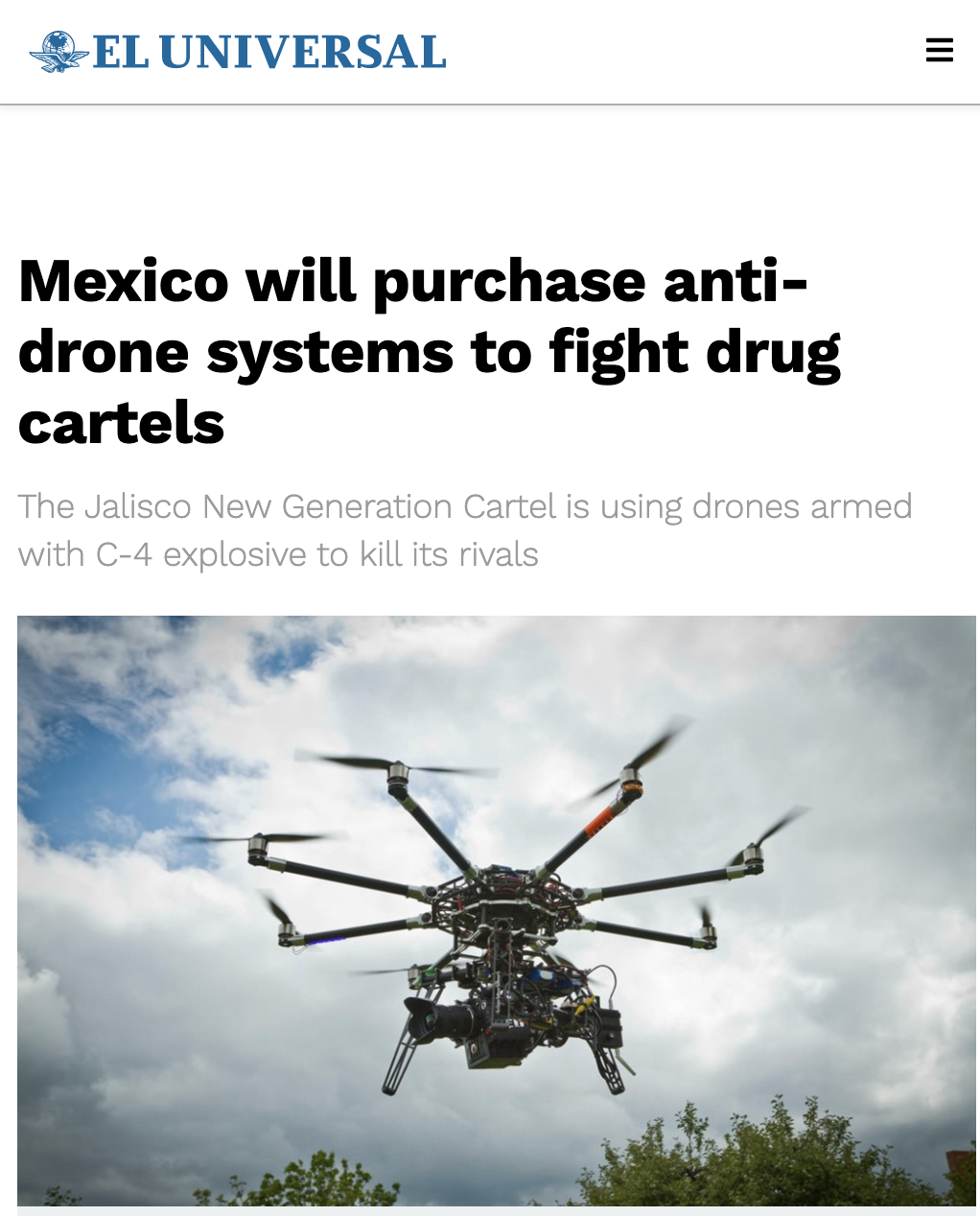 ---