From Animal Politico
The Special Prosecutor's Office for Organized Crime Investigation (SEIDO) of the Attorney General's Office (FGR) initiated an investigation folder for alleged operations with illicit resources from drug trafficking against the governor of Tamaulipas, Francisco Javier García Cabeza de Vaca, they confirmed federal authorities.
After 10 months of monitoring Cabeza de Vaca, and in collaboration with federal intelligence institutions and the US government, the Attorney General's Office (FGR) obtained wiretaps provided by the DEA (United States Drug Enforcement Administration), which indicate that the Tamaulipas president could have benefited from alleged profits from organized crime.
In addition, the Financial Intelligence Unit (UIF) provided the file with evidence against Cabeza de Vaca for alleged illicit enrichment, diversion of public resources and tax fraud.
The federal investigation includes the closest family circle of the PAN politician, who has served as mayor, federal and local deputy, senator and official of the government of Felipe Calderón.
Cabeza de Vaca was also implicated by Emilio Lozoya, former director of Pemex, in the alleged payment of bribes to legislators for the approval of the energy reform in 2013.
The FGR began the investigations against Cabeza de Vaca based on indications that he built a real estate heritage, especially in the United States, with resources that are not justified in any legal activity. On June 11, the investigation was turned over to SEIDO to open the corresponding investigation folder.
To this investigation will be added a complaint related to the same events presented on June 29 by Alejandro Rojas Díaz-Durán (MORENA), who accused that Cabeza de Vaca and collaborators of his government have ties with the Gulf Cartel and Los Zetas.
In February 2016, in the middle of the campaign for governor, it was disclosed that an alleged operator of the Gulf Cartel identified as Héctor Crescencio de León Fonseca, "El R3", accused that the then PAN candidate was receiving payments from the criminal group. The suspect made the point in a statement made to federal police after being arrested on January 7 in Altamira.
"I am aware that my boss, 'R2' and/or 'Toñín', who is Marco Antonio Haro Rodríguez, gives money to a politician named Francisco Javier Cabeza de Vaca. I know this because when I give him the money I collect, he mentions that this money is for the politician Cabeza de Vaca," read the statement of the detainee, which was consigned to the Agent of the Public Ministry of SEIDO, according to know Reforma.
Rojas Díaz-Durán included in his complaint images of narcomantas disseminated in 2019 in which, supposedly, the Gulf Cartel accused the governor of receiving 15 million pesos from the criminal organization for his electoral campaign, and reproached him for not complying with an alleged agreement to "allow them to operate" in the state.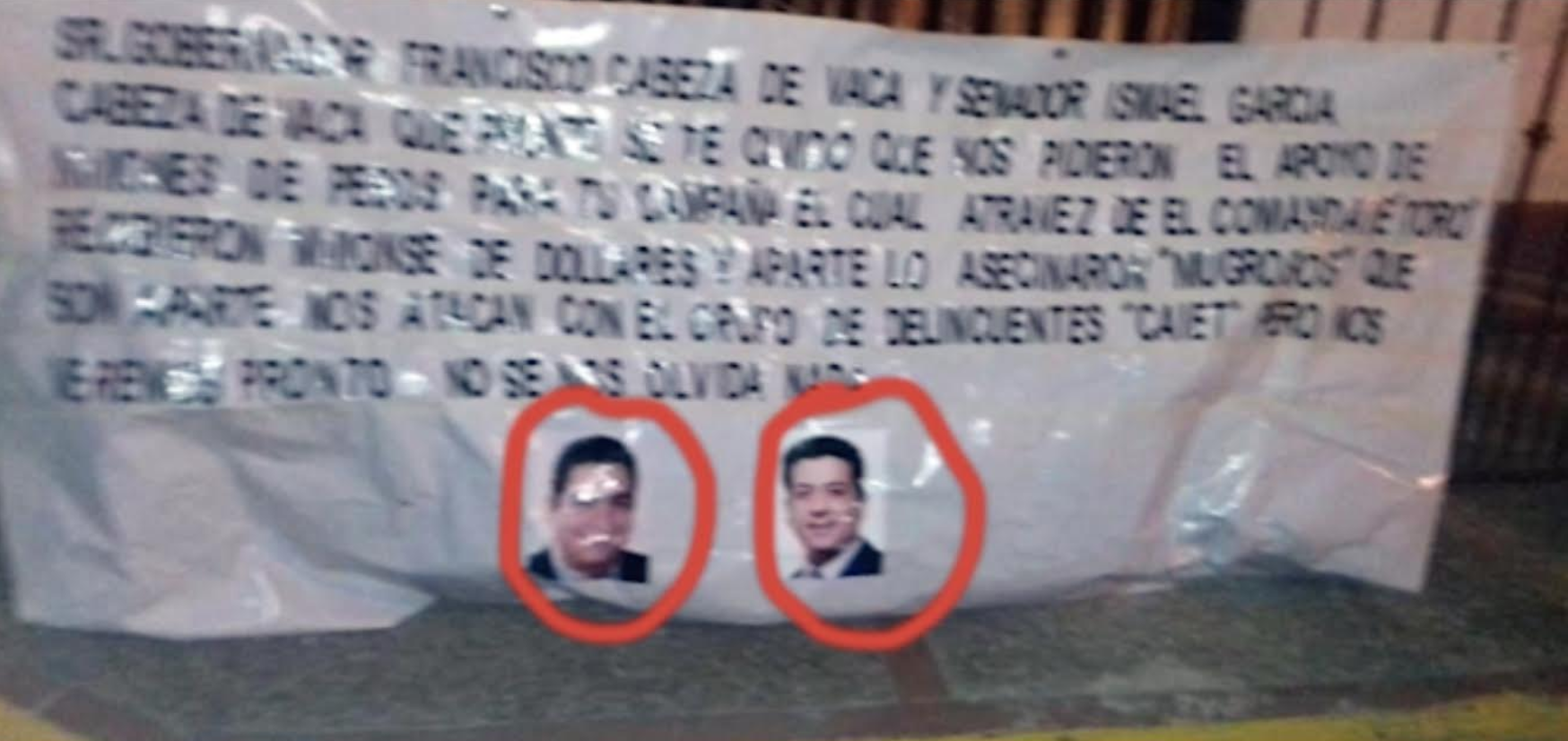 In December 2016, when he first assumed the governorship of Tamaulipas, Cabeza de Vaca published a statement in which he revealed his wealth and that of his wife, Mariana Gómez Leal: in total, 12 properties, including houses, apartments and land, located in Mexico City, Reynosa, Tamaulipas, and McAllen, Texas, found Animal Político.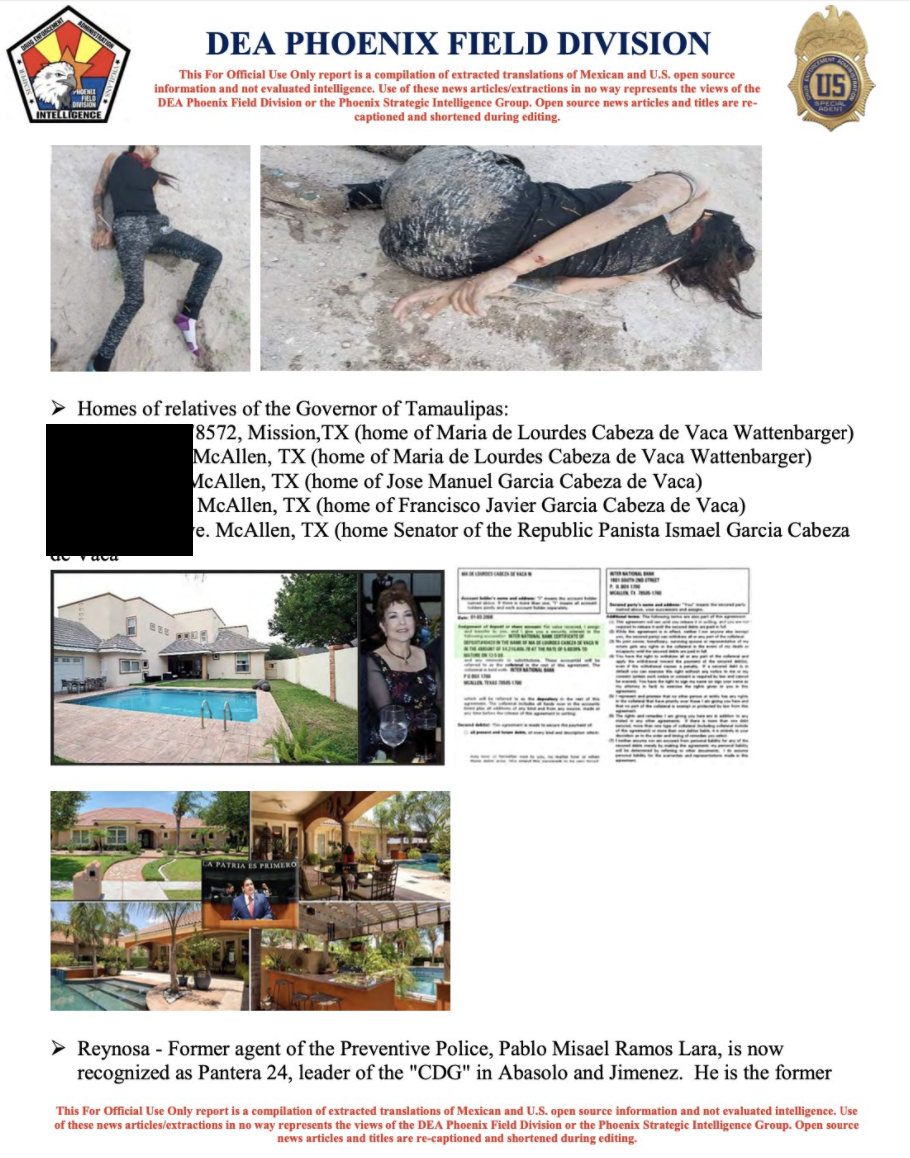 In 2012 alone, the electoral year in which he ran as a candidate for the Senate for the PAN, he and his wife acquired five properties in Reynosa, his hometown, of which he was mayor.
Already as a senator, in November 2013, a month before the approval of the energy reform, he bought a 481-square-meter apartment in the exclusive Bosques de Santa Fe Golf Club, in Cuajimalpa, for a value of 14.3 million pesos.
Rojas Díaz-Durán's complaint estimates that the value of all Cabeza de Vaca's properties amounts to 104 million pesos, while the salary that he could have obtained for his positions as a public official, between 2000 and 2016, would have been 13.2 million. of pesos in total. Taking into account that he would not have spent a single cent of his income to live, the difference between his assets and his income is 90.8 million pesos, the complaint indicates.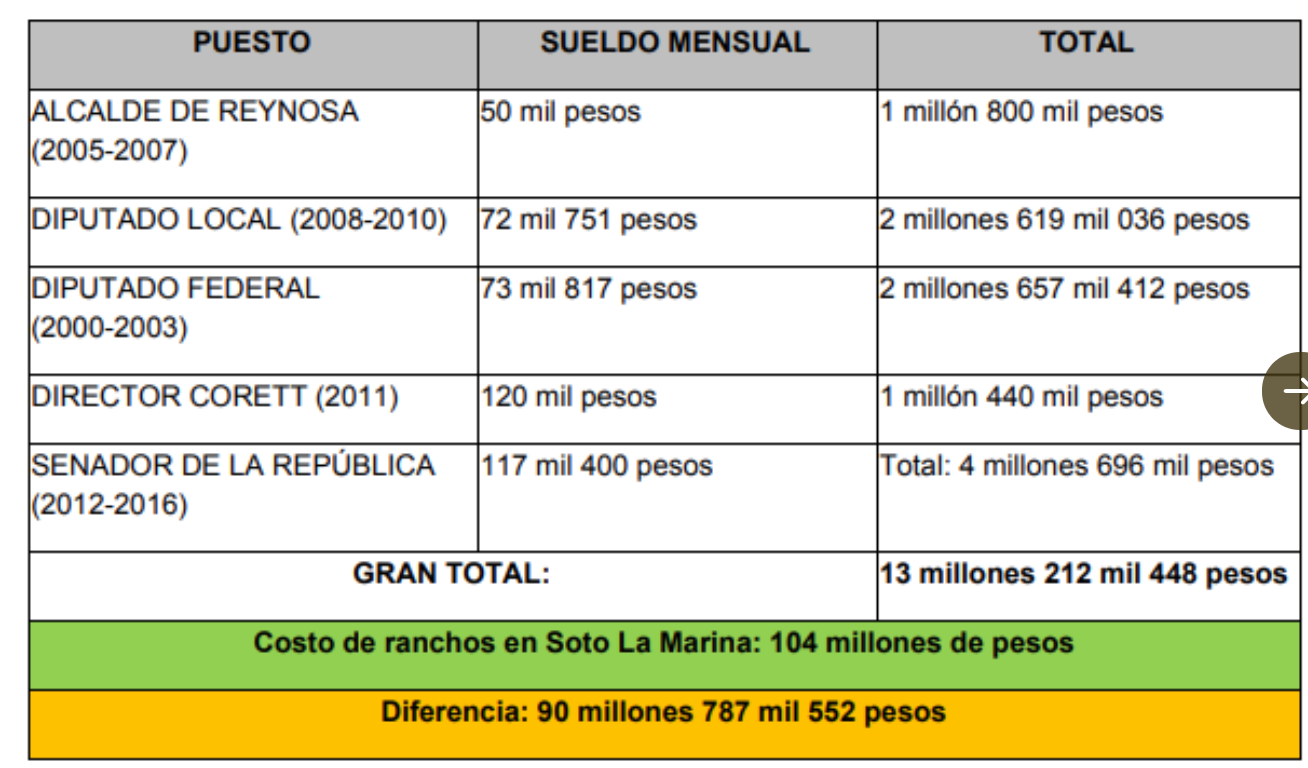 On the other hand, relatives of the state president had a period of wealth bonanza in Texas in the period in which the PAN politician was a local deputy (2008-2010) and head of the Commission for the Regularization of Land Tenure (Corett, today Insus) in the Calderón government (2011). Rojas Díaz-Durán's complaint maintains that his relatives are nothing more than his title holders.
According to records from the county of Hidalgo, Texas, in 2008 a house with a value of 486 thousand dollars was acquired in McAllen in the name of the Tamaulipas governor's wife. That same year, one of his brothers, Ismael García Cabeza de Vaca - current senator of the Republic - bought a property in Mission at a price of $ 295,000.
In 2010, Ismael and another brother, José Manuel, bought a house in McAllen in 2010 at a price of $ 288,770; His mother, María de Lourdes Cabeza de Vaca Wattenbarger, acquired a property in Mission with a value of $ 260,637 a year later.