Authorities on Tuesday dismantled a clandestine laboratory in Peribán, Michoacán. The operation involved elements from the state police, Army, and the National Guard. The laboratory appears located partly within a cave to evade detection by helicopters. The area exactly is the community of Los Palillos, a mountainous region. Authorities say the laboratory was used to make crystal meth.

Various items related to the production of drugs were discovered at the site.
Centrifuge machine
Sixteen 200 liter drums with various chemicals
Ten 30 kg propane tanks
Twelve burners
Various chemical precursors

Not named was any specific group associated with the laboratory. It's also unclear if they made any arrests. This discovery is not surprising. Michoacán is a frequent place criminal groups manufacture narcotics. Detailed in the 2015 documentary from Mattew Heineman titled Cartel Land.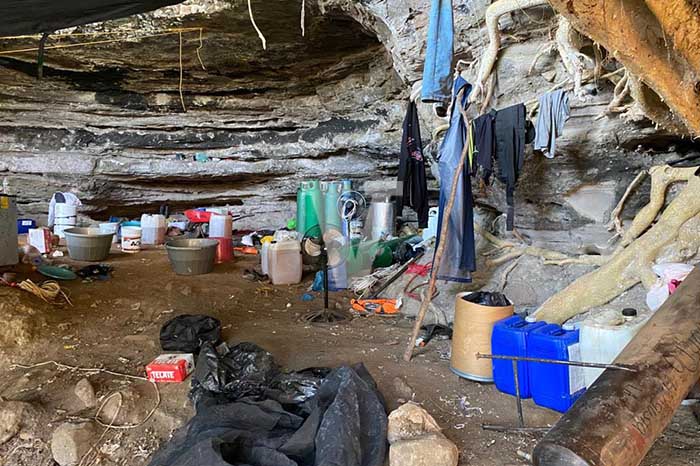 ---
Sources:
[1] https://www.eluniversal.com.mx/estados/michoacan-aseguran-laboratorio-clandestino-de-droga-sintetica-en-periban
[2] https://lasillarota.com/estados/desmantelan-narcolaboratorio-en-michoacan-estaba-en-una-cueva/451086
[3] https://lazetanoticias.com/2020/11/03/ejercito-gn-y-pm-dan-fuerte-golpe-al-narcotrafico-en-periban/
[4] https://moreliactiva.com/revientan-laboratorio-de-drogas-en-periban/
[5] https://portalhidalgo.mx/dan-fuerte-golpe-al-narcotrafico-en-periban/
[6] https://www.lavozdemichoacan.com.mx/seguridad/desmantelan-narcococina-en-periban-funcionaba-con-9-reactores-y-producia-millones-de-pesos-en-drogas/