On August 28, 2017, Jorgé Fernández was charged with femicide for the murder of his wife in Tamaulipas. For the last three years, he's been in prison serving a 47 year sentence. But an examination of the evidence used to convict Jorgé brings up far more questions about how the investigation was handled and what led to a murder conviction in spite of exculpatory evidence and no physical proof that Jorgé viciously murdered his wife.
---
On July 2, 2017, Pillar Garrido, 34, and her husband, Jorgé Fernández González, 34, along with their young son were headed back to Ciudad Victoria in Tamaulipas after a day at La Pesca beach when they were stopped by three men. Two were young, between 15 and 17, and armed with Kalashnikov rifles, along with a third man driving a recent model Jetta or Passat without license plates. The men kidnapped Pillar and fled in the vehicle. According to prosecutors, Jorgé and his son were unharmed and the men did not take any of their belongings. But according to statements from Jorgé, which were also supported by testimony from others present when he made them, the attack had been an attempted highjacking and robbery.
According to police, Jorgé waited until the next day before reporting what had happened. Prosecutors claimed that he did not immediately report the kidnapping because his son was tired and felt very bad. But that's simply not true. In fact, Jorgé reported the kidnapping the same night, accompanied by his father, and the report was videotaped. The witness who claimed that Jorgé waited until the following day was later discredited for lying by a Magistrate judge in one of the appeals.
Investigators interviewed Jorgé and began searching for Pillar. With information from Jorgé, police were able to make a composite sketch of one of the alleged kidnappers, and Jorgé identified another subject, a minor known by the alias "Gufi", from police photographs. Juan Antonio Rodríguez Verdines, aka "Gufi" or "Gofy", had a criminal record for 7 armed robberies and 4 homicides. Whether or not this information was ever followed up on by investigators is unclear. On October 6, 2017, "Gufi" was shot to death along with several others in a vehicle in Cd. Victoria. Official reports indicated it was a "settling of accounts" associated with organized crime.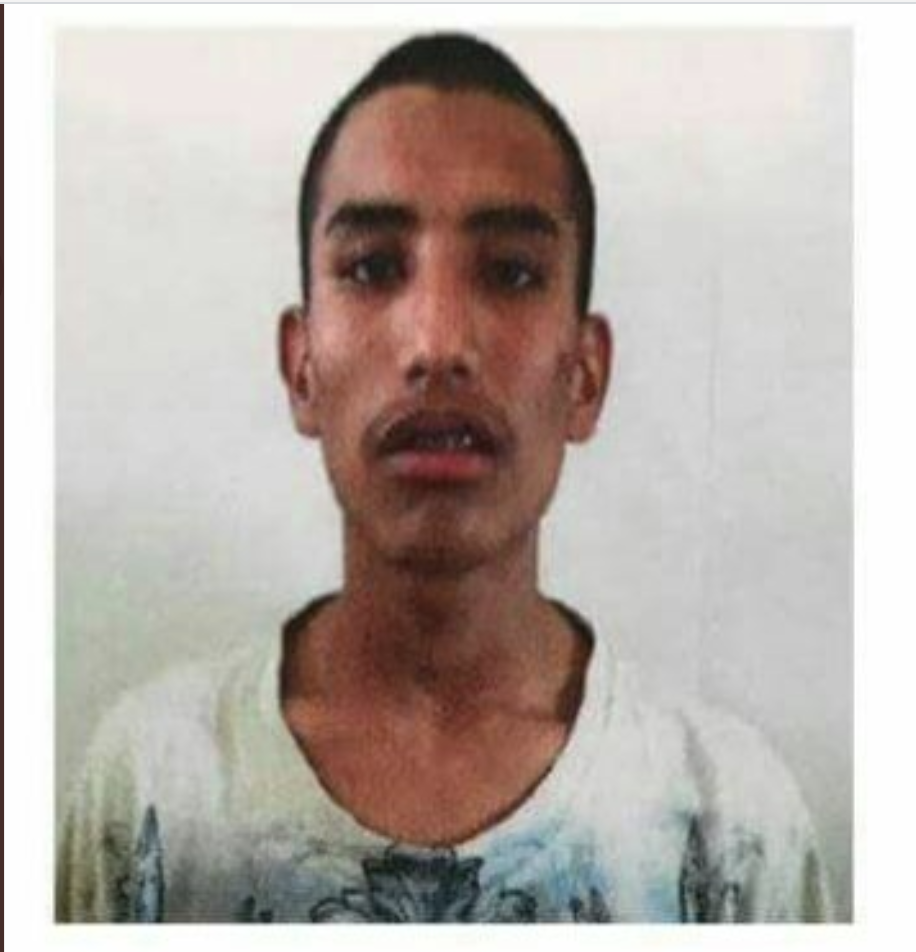 After the kidnapping, cell phone records show that Pillar's phone was used to send 5 SMS messages on a highway near Soto la Marina at 11:30 PM on July 2 and another 4 SMS messages during the morning of July 3, times when Jorgé was simultaneously filing complaints. The recipient of the SMS messages was never investigated.
Prosecutors later claimed that in subsequent investigations, the route and the times that the family had been traveling back from the beach were established which contradicted statements made by Jorgé. In their initial interviews with Jorgé—distraught from his wife having just been kidnapped and without an attorney present—he had supposedly misspoken about one of the streets and had gotten the times wrong within an hour of what was eventually determined to be the precise time. This would later be used to convict Jorgé of murdering his wife.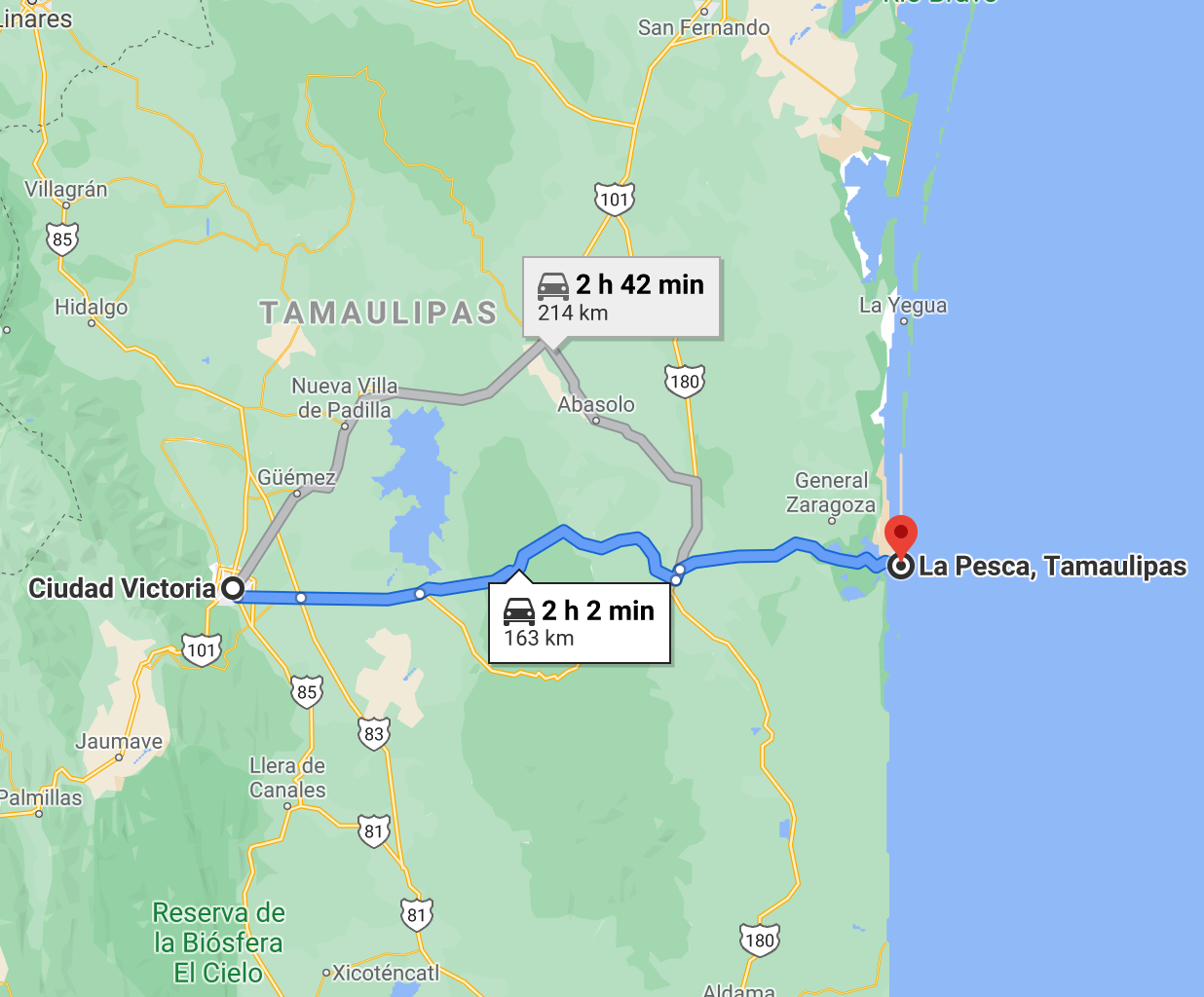 Police claimed that based on this new information, the search was redirected along the Soto la Marina-Ciudad Victoria highway, where on July 26, during their tenth search, skeletal remains were discovered only 65 meters from the road. The remains were found 9 kilometers from where Jorgé said the kidnapping had taken place. In their reconstruction of events, Jorge indicated the kidnapping had taken place at a different location from where prosecutors would later allege that he had told them. In the state's photographs of the road where Jorgé had actually claimed the kidnapping happened, tire marks can be seen on the asphalt, consistent with his version of events.
After the remains were recovered, Tamaulipas investigators publicly stated that Jorgé was still considered the complainant rather than the main suspect. On August 28, with no apparent indications that the state investigators' theory had ever changed, Jorgé Fernández was arrested and charged with femicide in the murder of Pillar Garrido.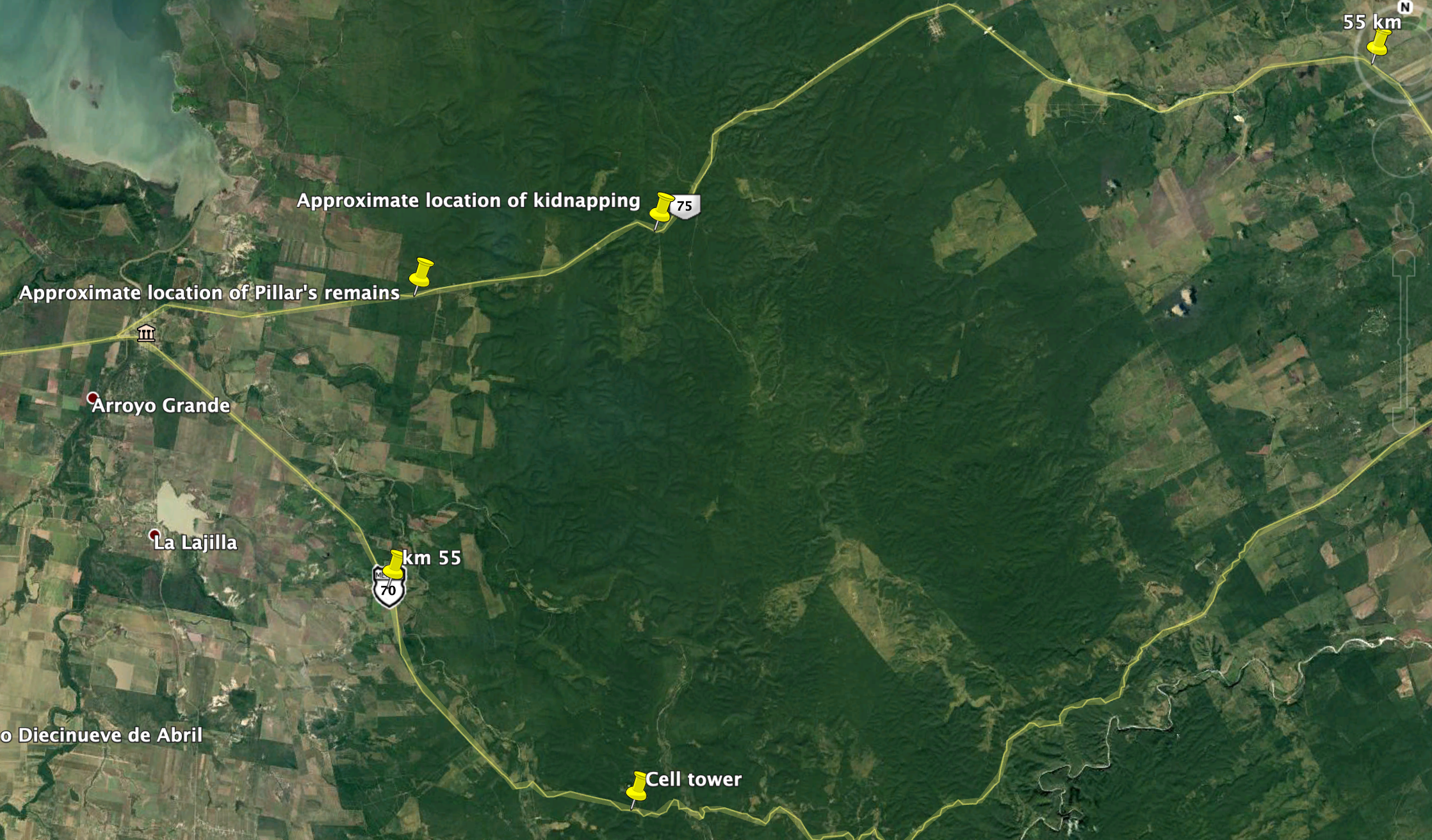 In their previous searches on foot, by air and with canines, federal investigators reported no signs of aerial scavenger wildlife within a 10 km radius around the site of the reported kidnapping. Federal investigators did however find signs of organized criminal activity in the area, including camps apparently used by the kidnappers for doing armed robberies of commercial traffic.
Strangely, despite being severely emaciated and in an advanced state of decomposition (police described the remains as skeletal), no fingers or toes had been taken by scavenger fauna, a phenomenon commonly observed with bodies that have been in the elements for more than a few days. The location where Pillar's body was found did not have environmental traces of putrescine or cadaverine, two compounds produced during the natural decomposition process.
The remains were found with the body in an unnatural position in the middle of an L-shaped clearing in a thorny mezquital thicket which prohibited accessing the area without being severely scratched by the briars. During the initial interviews, Jorgé did not have scratches on him when he was examined although investigators never documented this. Jorge's father witnessed the examination and testified as much at the trial.
Numerous items of clothing and personal effects, including hygienic pads (although family members later testified that she used tampons) were found next to Pillar's body. Investigators never tested any of these items for serological or genetic evidence.
According to state investigators, the remains were determined to belong to Pillar Garrido in a matter of hours. The first forensic report from the prosecutor's office did not include a cause of death. Contradictions regarding the dates, time and cause of death were found in the three forensic reports commissioned by the state attorney general's office. The state's anthropologist was not accredited.
Pillar's remains were returned to her family in Spain. For 7 months, Spanish investigators were unable to confirm genetic findings of investigators in Tamaulipas but were able to identify the remains through odontological forensics. The remains were finally cremated.
The prosecution claimed that Pillar had died due to mechanical asphyxiation and the autopsy by the state's unaccredited anthropologist determined the existence of perimortem trauma to Pillar's nose, skull and neck. Investigators in Tamaulipas made the determination that Pillar had been strangled based on a supposedly broken hyoid bone. But there was never any hyoid bone recovered which indicated that it was either broken or intact. In fact, multiple credentialed investigators at Complutense University in Madrid determined the probable cause of death as drowning since an examination of neck tissue revealed no evidence of strangulation. Ultimately, no physical evidence supporting the state's determination for the cause of death was ever presented.
The prosecution also claimed that her nose had been broken by a perimortem blow with a trajectory from left to right in their report. However, forensic experts and a plastic surgeon testified that Pillar's nose hadn't been broken, but rather had been altered during an antemortem surgical procedure years before her death. Investigators in Spain also found a perimortem injury to the right orbital bone which was inflicted with a blunt object with a trajectory from right to left which investigators in Tamaulipas had apparently missed. The mechanics of the injuries presented by the state were incorrect while other injuries had been missed.
Tamaulipas investigators alleged that whoever killed Pillar had not taken her watch, supposedly indicating that the motive had not been robbery. But during discovery, the prosecution submitted photos of the watch Pillar was wearing at the time of her abduction. However, at different times in the proceedings, the watch appeared in two very different conditions. According to family members, in one photograph it looked brand new, but in another photo it was severely scratched and broken.
---
A native of Valencia, Spain, Pillar Garrido met Jorgé Fernández, a Mexican national, 11 years before her death while Jorgé was living in Barcelona. The couple had married in Spain 6 years after they met. Pillar and Jorgé had been living in Cd. Victoria for 3 years before Pillar's death and had a son together.
Jorgé was a criminologist and taught at the Universidad de Policía y Justicia de Tamaulipas and had worked for the Secretaría de Seguridad Pública in Nuevo León and Tamaulipas for 11 years. He had no criminal record or history of domestic violence. More than 10 witnesses testified that Jorgé and Pillar had an ideal marriage and that they never witnessed fights or abuse. Pillar and Jorgé had lived with Pillar's family in Spain for 3 years and Jorgé's family for 6 months. At the trial, both families testified that they never once witnessed any arguments during those periods or at any other time.
In the media reports, prosecutors would later claim they called a witness who testified that on one occasion, Jorgé had gotten into an argument with Pillar and, according to the witness, had appeared as if he might hit her although he never did. But that's a gross mischaracterization of what the testimony entailed. In their testimony, the witness said that at an event, Pillar spilled a soft-drink and Jorge called her a "pendeja".
Prior to being called to testify, the witness had also been involved in a lawsuit with Jorge's family who had worked for them at a spa for 6 years. Jorge's mother had been sued by the employee for dismissal over an alleged theft and the employee had won, but he judgement issued was in excess of what was prescribed by federal labor law and the settlement was less than what the employee had wanted. The most damning circumstantial character evidence had been provided by someone with a personal grudge against Jorgé's family.
The testimony by the disgruntled former employee was also refuted by other witnesses present at the time who said that Pillar never spilled anything, and in fact, it was a granddaughter of Jorgé's parents who accidentally spilled water on his pants. The witness who testified that Jorgé called his wife an asshole is also allegedly related to someone at the Tamaulipas Prosecutor's office.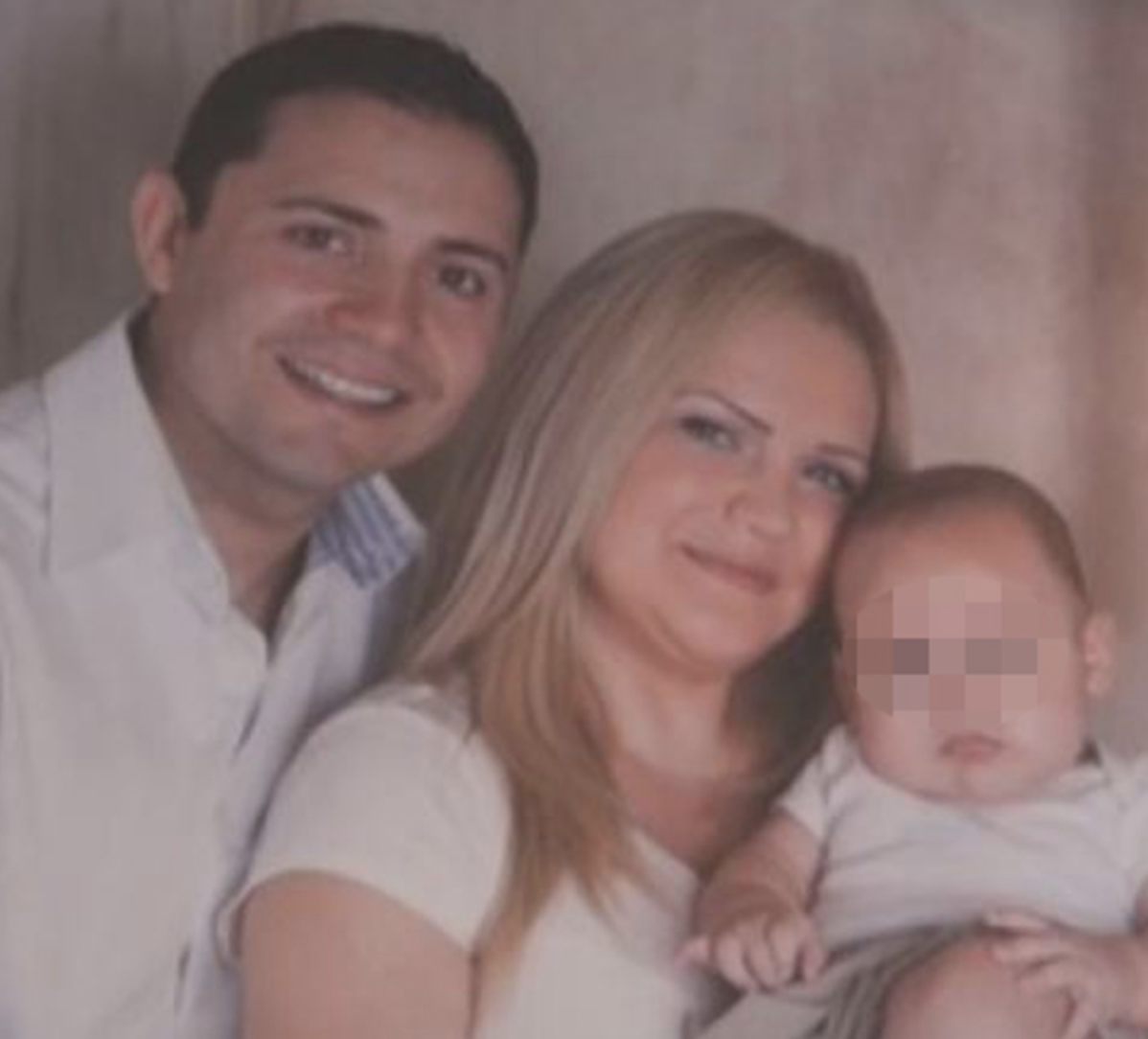 To this day, Pillar's family adamantly insists that Jorgé is innocent.
Nevertheless, Jorgé Fernández was convicted and sentenced to 47 years in prison for the murder of his wife.
---
Jorgé's family has worked tirelessly through the appeals process in their son's case. In conversation, his father speaks with a pained hopefulness and the earnestness of a father's profound love for his son. He doesn't claim that the state fabricated evidence, only that there isn't proof that his son killed his wife. Despite all that's happened, he has no grudge against officials in Tamaulipas. When asked about it, his only demand from officials is that justice be done and that his son's case be resolved in accordance with the law. Besides that, the only thing he seems interested in talking about is his son.
Jorgé has maintained his innocence and harbors no ill-will towards the judges or the prosecutors. He even prays for them. After 3 years in prison for a crime he didn't commit, he still has faith in the judicial system and believes that the truth will eventually be made known. In prison, he says Christ's love and teachings have helped him through the tribulations. In spite of everything, he somehow maintains faith.
---
Dedicated to Pillar, Jorgé and their families. Have faith.
With information from interviews with Jorge's father, Milenio, El Universal, Sin Embargo, El Español, Republica, el Periódico, SDP Noticias, and Zócalo